Digital Marketing Outsourcing: How Your Business Can Benefit From It
Digital marketing outsourcing has become the standard globally for the enterprise that wants to simplify its operations by exclusively focusing on what they do best. But is this the right path for your business? Or, are you better off running your digital marketing in-house?
We take a look at what outsourcing digital marketing services means for your business versus having to maintain an in-house or full-time marketing team.
Making the Right Choice
Today, the smart company has mastered the art of outsourcing critical services that are not part of its core business activities. While there are several reasons why a business outsources for professional services, it all boils down to the guarantee of top-value at affordable rates. It also saves the company from the expensive and time-consuming process of hiring more employees who are even more costly to keep on the payroll.
When it comes to managing your marketing campaigns, long gone are the days when you would expect your employees to handle different tasks at a go. The odds have been raised at a time when digital marketing has become an essential part of your marketing strategy.
This is because the rise of the internet and advancements in technology has redefined the business landscape. As such, to emerge as a winner, you need solid backing from a team of experts who understands digital marketing and advertising, and such a team can only be outsourced.
Outsourcing digital marketing services to the experts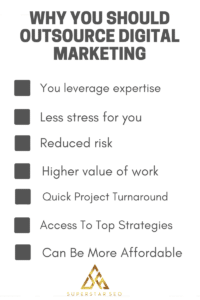 When looking for a marketing agency to handle your online campaigns, not every team you come across is worth your time and money. It takes a high-ranking digital marketing agency specializing in your niche area of business to help implement your marketing strategy.
For example, you would never get the desired value as a real estate company if you hire a marketing team specializing in e-commerce marketing.
This is why before you rush to get into a long-term agreement with digital marketers, it pays to extensively consult and seek to know as much about them as possible. Among the activities you can engage in include going through their case studies, analyzing their marketing packages, and understanding their areas of expertise. Armed with this information, it becomes easier to know whether you are settling for the right team of experts or not.
Why you need to outsource your digital marketing
As a business, there are many benefits of outsourcing digital marketing services, regardless of whether you are running a small or large company. Marketing is all about continuous effort, and with the ever-evolving world of internet marketing and advertising, it takes a full-time digital agency to deliver outstanding solutions. If you are still unsure on whether you need to hire digital marketing gurus or not, here is why this is a smart decision for your business:
Free up your team and work with a digital marketing specialist
Your full-time team of employees always has too much to handle at any given moment, and placing all your marketing demands on them will be strenuous. This always causes a drop in their deliverables as they have to strive and multi-task, significantly impacting their output. However, choosing to outsource your digital marketing tasks helps you free up your team and letting them focus on their core specialties.
On the other hand, you get to benefit from working with an agency that will effortlessly handle most of the work, including; website management, email marketing, SEO, PPC, and content creation. The best part is that each line of services offered is managed by a team member that understands the best practices and techniques that guarantee results. In essence, you will not only be paying for services but results, leaving the marketing agency to worry about the methods and strategy to meet their deliverables.
You May Also Like: Free Website Traffic: How To Make More Sales Without Ads
New and unbiased insights & perspectives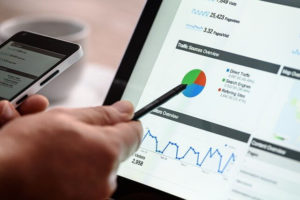 It is easy to get comfortable with sub-standard services, especially when you lack new insights and perspectives on handling specific tasks. The digital marketing world is defined by its ever-changing and advancing landscape that demands fluidity and constantly experimenting with a new strategy. Digital marketing agencies are a bridge to getting out of your comfort zone and stepping up your game to keep up with the competition.
Outsourced marketing allows you to stay engaged with the market as you benefit from expert insights that are hard to replicate in-house. These new perspectives will have a trickle-down impact as they will allow you to have a better marketing plan and run valuable campaigns.
Reduced risk, higher value
Digital marketing experts spend each hour of their professional work time thinking about only delivering top results for their clients. This is quite contrary to what your house team has to bear with as they have many other duties to handle besides your digital marketing requirements.
By outsourcing these critical services, you enjoy working with a time employee whose 'salary and benefits are dependent on the provided value. In the end, you get to significantly reduce your risk while having the assurance of higher value.
You May Also Like: How To Do SEO For a New Website
Access to the latest digital marketing technologies and techniques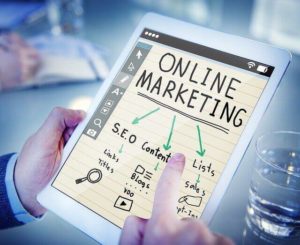 The best marketing team today is fully invested in the latest marketing technologies and tools, as this is what makes the difference in their deliveries. It is expensive to invest in these tools as a business, and relying on a third-party team that is ever in touch with the advancements in the industry is the only way to win.
The joy of working with a marketing agency is you are confident that your online campaigns will be backed with the latest technologies and techniques. For example, if you are running pay-per-click advertisements, you will enjoy the professional optimization and ease in reaching out to the targeted audience. This will make your campaigns more valuable while keeping your marketing budget within a reasonable range.
Stay ahead of your competition
It is no secret that outsourced marketing is a channel to staying ahead of the competition as you get to work with the best professionals for the job. Instead of trying to hire the right team to work in-house, you get to have a team that has already been built to deliver on those objectives. You will also be sure about what to expect as working with digital marketers involves using milestones to judge performance and determine potentials for a long-term partnership.
Quick project turnaround
Your marketing campaign is only as good as how much effort, attention, and expertise are placed in making the project valuable. When you work with an in-house team, you are often held back in timely deliveries and constant monitoring of the project results. A full-time digital agency saves you from all this trouble as all projects are delivered based on deadlines and how best they suit your overall marketing strategy. Often, this is what makes the difference between a super-successful campaign and one that barely delivers the desired results.
Conclusion
As a business looking for a reason for outsourcing digital marketing services, we have evaluated all the reasons you need. Since competition is getting stiffer in every industry, working with seasoned professionals is no longer an option but a necessity. In the end, a professional digital marketing agency is the missing link for your marketing to make you become a winner by better reaching out to your target audience.
Related Article: SEO Outsourcing
Learn How To Outsource an Entire Business