The big question 'is affiliate marketing dead?' has been brandished around for a while now by those who don't like to see a good thing succeed. Affiliate marketing has managed to stay ahead of the marketing game by evolving along with the changing times and enabling from what was the original model to take on a new shape and innovative strategies to cope with the different tech, sales, and advertising advancements.
Being organic has allowed affiliate marketing not only to survive considerable changes in these changing technological times but to continue to grow from strength to strength.
When Did Affiliate Marketing Become Popular?
So, affiliate marketing, which is a type of performance-based internet marketing, saw swift growth years ago, throughout the 2010s, and still is to the present day. And now, as 2021 rolls steadily along, affiliate marketing is still expected to continue to grow and is thought to continue generating revenue for those capable of capitalizing on it – regardless of the cynics.
A successful affiliate marketer is the key to vast sales. It is not possible to make a successful online business if does not generate affiliate marketing revenue enough to cycle the process. Affiliate marketing business is the most strategic way to make money online.
And it wasn't so very long ago that affiliate marketing was the buzz term of the past two decades, mainly if you wanted to 'get rich quickly. So, why is there doubt of its continuation when the forecast for an affiliate marketer is actually so good?
Is Affiliate Marketing Here To Stay?
Without a doubt, affiliate marketing is here to stay. By 2022, the affiliate marketing industry is forecasted to surpass the $8.2 billion mark, which is up from $5.4 billion, and which makes it nearly double what it was worth in 2015.
In fact, affiliate spending is projected to exceed $6.8 in the USA alone. And a whopping 80% of brands use affiliate marketing as one of their primary sales channels.
If that's not enough – 15% of the whole digital advertising revenue can thank affiliate marketing for its success. The affiliate industry is worth over $12 billion and continues to grow year on year.
As long as there are online businesses stay, affiliate marketing trends will continue and a successful affiliate marketing program can be beneficial for both the affiliate marketer and the seller.
When you promote affiliate links, it can drive traffic to maximize sales. Successful affiliate marketers can make an eCommerce platform popular.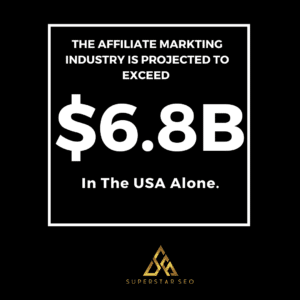 That's a heck of a lot of money, time, and effort for something that could die out pretty much anytime soon… Because, today, affiliate marketing is still thought of as one of the most efficient ways to earn an attractive income online, drive sales, and increase brand awareness – the figures simply speak for themselves.
Trends are always coming and going, but there are some to watch when it comes to affiliate marketing which will prove it's far from a dead marketing tool…
Is Affiliate Marketing Dead?
So, is affiliate marketing dead? Not on our watch. You might not be able to rely on the most basic affiliate marketing programs to make money anymore, and those who want to earn a good income through affiliate marketing need to be creative and willing to adapt to new trends and ideas. But affiliate marketing is definitely not a thing of the past.
The affiliate marketing business model is never going to die. Online marketers are the key to online business. Amazon is the world's leading online marketplace that supports affiliate marketing and people make a good amount of affiliate income through Amazon's affiliate program.
The affiliate marketing universe promotes links through a successful blog. And this business model works with affiliate sites to promote a product. Affiliate marketing began with the Amazon Affiliate program or the Amazon Associates program. Here are great affiliate marketers work. Also, amateur affiliate marketers attend networking events without knowing the right marketing technique.
Perhaps affiliate marketing lies in the right affiliate marketing method. Just having various affiliate marketing accounts does not help you make money online.
So, the sellers will never stop affiliate marketing spending. Therefore it is not going to die anyway.
There will also be a very high percentage of people who enter the affiliate marketing world who will never succeed with it or will make much money.
However, for those who are good at making money, it can still be a great thing as this is a form of marketing that requires a lot of technical knowledge and hard work, as well as a lot of time to reap the rewards in this competitive industry. Expertise and patience are crucial elements when it comes to competing in this multi-billion dollar industry.
Affiliate marketing is still seen by many as a booming opportunity, especially when you consider the rise of freelancers and solopreneurs with online businesses.
If we start looking ahead to the millennials and post-millennials, who are actively cashing in on the sharing economy, as they understand the power of passive income, and as businesses are formed, they are actively integrating affiliate marketing into their business models.
Why? Putting it bluntly, because the numbers just make sense. Come on, ten voices versus one voice actively sharing and promoting a product inevitably leads to accelerated awareness and profit.
So, is affiliate marketing dead – Nah!
Affiliate Marketing – How does it work?
Also known as publishers, affiliate marketers can be social media influencers, bloggers, or other brands who have an audience that is similar to the company's target customer – this gives the brand immediate access to a possibly new and different audience.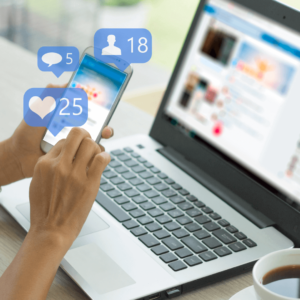 Affiliate marketing is a great way to drive sales and generate online revenue because affiliate marketing is basically an agreement between someone – the seller, brand, retailer, or vendor – also known as the merchant, who wants to sell a product and a marketeer who is also known as the affiliate or publisher who helps to get people to buy that product. Therefore the key players in affiliate marketing are the advertiser, the publisher, and the customer.
You can work around Affiliate marketing in multiple ways. It is a widespread revenue-sharing trend that requires an online property. It could be a youtube channel, affiliate sites, or social media websites such as Facebook or Instagram page.
Many marketers promote products through social media marketing. However, you need to make the perfect affiliate marketing content. As a summary affiliate marketing method, you have to promote a product and earn commissions after getting sales from your link.
The affiliate marketing space is huge. And sellers do affiliate marketing spend to promote their products quickly. The affiliate marketing bandwagon is the reason for the vast popularity of online selling businesses.
Customers are made aware of products they may not have otherwise purchased. Publishers earn revenue by promoting or influencing the sale of those products by organically including them in content. And the company that sells the product does more business.
So, when a customer purchases a product or service through the publisher's affiliate link, the publisher earns a commission for that particular sale. It increases sales for the brand and acts as a revenue source for the publisher, making it a win for all parties.
Years ago, literally, anyone could be an affiliate, but more recently, the FDA made it compulsory for anyone who promotes a product to disclose it. And affiliate marketers must ensure they are working with reputable merchants who can provide quality products and services.
A staggering 90% of merchants assume that affiliate marketing is essential to their own success as it can open merchants up to a whole new type of consumer.
Affiliate marketing is unique in relation to other internet marketing techniques partly because it works as a distributed system when it shares out the responsibility of making impressions and promoting products or services to these third parties – the affiliate.
Where Do Affiliates Share Their Links?
Nowadays, affiliate marketing is implemented across a diverse range of social media, including YouTubers with their affiliate links in video descriptions of the clothes they're wearing or the products they mention. Likewise, bloggers often place affiliate links on their posts.
Strategies for marketing affiliates have changed to keep up with the demands of consumers who have demonstrated a preference for online shopping – this merely means that innovative marketing ploys are required for different needs.
You May Also Like: Long Tail Keywords For SEO
The Marketing Affiliate Times Are Changing
So, affiliate marketing isn't dead. Not at the very least. It's simply evolved. It's fluid and forever changing.
So much so that both affiliates and merchants need to be prepared to adjust to these changes and be ready to adapt to anything as an estimated 1.8 billion people purchase goods because of affiliated marketing strategies. Amazon alone shipped over 5 billion items worldwide in 2018, thanks to affiliated marketing. Speaking of Amazon…
Amazon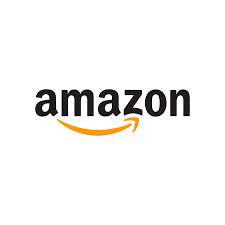 For years Amazon operated a robust affiliate program, which allowed members to advertise and link to the product, and they will gain a percentage of the sales. The program drove significant revenue for online websites that linked out to Amazon products in their content – this made it especially important for online publishers.
They drove potential consumers to buy products from Amazon for a cut of sales. Amazon associates' commission from purchases of furniture and home improvement products fell from 8% to 3%, and the commission rate for grocery products slid from 5% to 1%.
Now, let's put this into perspective – affiliate programs, which are similar to affiliate marketing networks, provide you with offers you can promote online. Affiliate programs are additional channels for sales for big companies, whereas affiliate networks don't. You can just sign up and get a link and persuade others to click it on their own blog/videos/review sites with search engine optimization.
This parameter tells the product owner to who they owe this sale. And like any good businessperson, the product owner then has to track the affiliate sales to manage their business efficiently. Because many of these products are actual physical objects, they have to be manufactured, stored, and then shipped, which makes them relatively expensive to operate.
So, the affiliate commission is usually around 4%. Whereas digital products – such as apps, with very little storage, shipping, or reproduction costs create higher payout rates, usually in the 60% commission rate.
There are various types of affiliate programs which include:
Social – These programs work best when advertised on social media by either paid traffic or by influencers.
Search – Affiliate offers are found via search engines such as Google and Bing.
Content – This type of affiliate program is advertised on articles, review sites, or blogs, and is often hidden within the site's content.
Coupons – Many sites gather coupons and discounts which an affiliate program may offer.
Email – Most of us have probably received hundreds of these because email marketing affiliate programs are still a big contender.
Amazon is still one of the most extensive affiliate programs on our planet, and it has around 12 million offers. That's a heck of a lot… The only problem is the cookie's lifetime is really short as it only has only one day. And because Amazon recently cut down its commission rates by half, it has scared others into thinking affiliate marketing was heading for a downfall…. Not the case.
Want to find affiliate programs? Check out the Best Affiliate Programs For Beginners 2021
What Works and What Doesn't
You need to be clear on what is working in the affiliate marketing industry and what isn't, and successful marketing affiliates need to stay on their toes to ensure their strategies are ahead of the curve – you just might have to look for other means such as offline, mobile or new technologies to enable you to stay one step ahead of the competition.
If you think it is a get rich quick scheme, you are completely wrong. Making money online is not easy. Perhaps it is more difficult for passive income. You have to know the target audience, provide good content, and choose the right affiliate products.
Yes, it can be a smart passive income if you do it right. Aspiring affiliates require a lot of knowledge of marketing and other criteria before going to earn Amazon slashed affiliate commissions.
And in 2020, Google Trends found that the interest in affiliate marketing peaked at the highest search for 11 years. That's certainly not to be sniffed at in this multi-billion dollar industry with unlimited potential…
The importance of social media cannot be overlooked. Affiliates are finding more and more ways of promoting products using the usual social media channels such as Youtube, Facebook, and Twitter.
In 2019, research showed that over 63.4% of people access the internet via their phones, and this will continue to grow, so brands and publishers inevitably focus specifically more attention on mobile content and mobile ads.
In recent years, there's been significant improvement in analytics and tracking technology which has made it far easier for companies to analyze the details of their affiliate marketing strategies.
So now, companies study the metrics to determine if their affiliate strategies are actually working.
Related: How To Make $1000 Per Month (From The Comfort Of Your Own Home)
Growing Competition
More people than ever want to become affiliate marketers because the idea of working from home, especially in difficult times such as the Covid-19 pandemic, is exceptionally appealing.
This inevitably pushes people to search for job opportunities whereby they can make money primarily from their own homes – not necessarily to get rich but literally to make money online.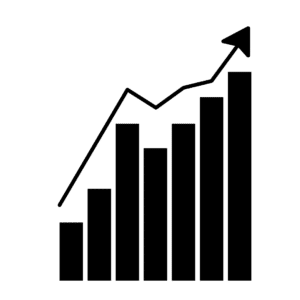 There will inevitably be more affiliates fighting for the same product or service offers and bidding for the same, but growing traffic. With this marketing sector being worth approximately $12 billion, no wonder it's still popular.
While over 15% of digital media revenue comes from affiliate marketing and 80% of brands use it as a channel, nearly 80% of CMOs surprisingly admit that it is their least understood marketing area. This can be explained due to a severe lack of technology and a heavily splintered industry, which is split across thousands of affiliate networks and software.
As affiliate marketing continues to grow, there will surely be significant consolidation of affiliate networks and much more widespread adoption of affiliation among publishers ranging from the largest of content sites to the smallest of bloggers, so it will grow to become one of the top areas of expertise for CMOs.
Affiliate Marketing is now more challenging and with Stricter Regulations…
Internet giants such as Facebook are beginning to tighten their advertising policies due to pressure from governments and public opinion, and so they have started to demand better content regulations. Verticals or angles are being banned on Facebook and Google making advertising to become less aggressive and more clever.
But it's beginning to be well-thought-out and more thoroughly researched and targeted with bigger budgets – surely this is a good thing?
Facebook itself has a constant team of 35,000 people reviewing content and security on the platform, and social media giants such as Facebook are under increasing pressure to stop the spread of false information. Facebook has looked to governments to come up with new regulatory systems for social media. They suggest it should be a mix of existing rules for telecoms and media companies.
Inclusivity
While more people will be jumping on the affiliate train because of the pandemic, big companies hosting affiliate programs may become more careful when accepting new program joiners. They may try to vet people more and maybe put in requirements such as having a successful site before new affiliate marketers are accepted.
The importance of lead quality will grow. And beginner affiliates are less likely to deliver it.
The very future of affiliate marketing is definitely in micro-influencers' hands as people love to share their favorite products or their most recent purchase on social media, and this isn't going to change anytime soon.
But what will change is that large companies will try to cash in on every reference of their product, which will push the flow of traffic through affiliates back to their digital properties, which in turn, will make affiliate links inherent to social media, thereby giving everyone the chance to become an affiliate.
Together with the advancement in mobile technology, people will be working affiliate angles from every moment they share online. It will become more hyper-localized with people integrating geo-localization. And purchases won't need to be made just online either, because if someone buys at a local shop, then promotes it online, others will then go to the store after interacting with that social media share, which will be the future of evolving affiliate marketing.
You May Also Like: 5 Productivity Tips For Entrepreneurs
So, What Are the New Trends in the Affiliate Marketing Industry?
Okay, let's talk about influencers over bloggers… Affiliate marketers have, in the past, been influential bloggers who write and manage blogs with a specific dedicated, niche type of readership. Although it's very likely that bloggers will always benefit from affiliate marketing partnerships, it's very likely that social media influencers will comprise the lion's share of the affiliate market going forward.
Affiliate marketing tracking and reporting tools are becoming significantly more advanced, with new affiliate programs beginning to abandon the winner-take-all approach to sales attributions. Instead, it appears that moving to an approach that divides sales commissions between various affiliates at different levels is the best marketing way forward.
It's thought by many that social media influencers will gain a foothold in hyper-targeted niches, such as long-distance triathlon camping, wedding planning tutorials, and cheaper travel suggestions – to mention but a few.
As these niches become increasingly targeted, consumer bases are becoming more loyal and willing to convert on leads and impressions. Although their traffic isn't as impressive as the major niche categories, the hyper-targeted ones are more likely to enjoy much higher conversion rates.
Is Affiliate Marketing Dead For The Affiliate Marketers?
Bloggers have been quite successful when it comes to affiliate marketing. There are really successful bloggers out there making who are making an insane amount of money through performance marketing because they have found their voice, their niche, and a loyal following of people who are learning and buying through their recommendations because they are considered experts on their topic.
That, and they have earned the trust of their readers. You can blog about anything and everything under the sun nowadays, and you can be as creative as you like.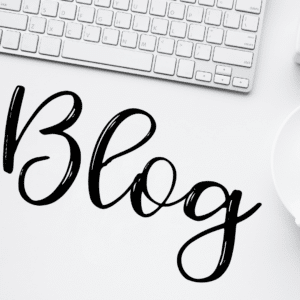 Bloggers use different channels outside of, but not excluding search engine optimization, to drive new traffic and business to their websites and to build solid relationships with their readers through shared opinions that are either original, written with conviction, or as a proven expert in their particular field. These bloggers depend on building a following through social channels, newsletters or RSS feeds, search, conferences, online and offline PR, and even word of mouth.
Many tools can help a blogger to monopolize their websites better, produce their content more easily, market their sites more effectively, and grow their fan base faster.
Is Affiliate Marketing Dead For Businesses?
So, the affiliate marketing industry has, in recent years, undergone multiple changes that have invariably affected critical players, including Google and Facebook. Regardless of these changes, affiliate marketing has been seen as an integral part of online business through the effectiveness of blog-based and PPC content marketing.
However, the future of affiliate marketing has stirred up some of the key market players when it comes to predicting different trends, including Amazon.
As big players like Amazon are still using affiliate marketing; no it is not dead for businesses.
Affiliate Marketing is Dead – Not
Affiliate marketing was born back in 1989 and started to gain serious momentum throughout the 1990s. Companies such as Amazon were early users of the revenue-sharing trend, and associate programs continued to become more prevalent in the following years. And by the time Web 2.0 came around, affiliate marketing was a widespread trend, and many more channels had opened up in the shape of blogs, web forums, and social media sites.
While affiliate marketing was a success for many people over the years, the question of whether the affiliate marketing technique is dying or even completely dead has been asked a lot recently. The affiliate marketing outlook involves a focus on bettering the user experience, the withdrawal of OTT regulatory scrutiny, and the world of automation as well as intelligent machines capable of learning complex algorithms. All of these suggest a very promising future for affiliate marketers.
Well then, it appears that affiliate marketing is far from dead.
In fact, it's positively booming. It's just evolving and changing. And we need to change with it. Voice search, multi-channel strategies, Google updates, more selective programs, and blocking third-party cookies are just some of the new affiliated marketing trends.
Long Live Affiliate Marketing!
Read More on SEO & Affiliate Marketing
Freelance SEO: The Ultimate Guide With Everything You Need To Know