Digital Marketing Agency Pricing Guide: How much should you charge?
As a marketer keen on starting a digital marketing agency, you need to think about your pricing model critically. Like any other industry, how much you charge dictates the amount of money your business can make every month. This is the nucleus of running marketing agencies as it influences your profit margin, which is a direct measure of how successful your venture is.
As such, if you want to run a digital marketing agency that will thrive and grow, you need to determine your pricing. Most importantly, you should make sure it suits your long-term objectives by keeping you competitive and attracting more clients.
To help you determine how much you should charge, we look at the critical factors that should be used to come up with a pricing model and package rates.
Knowing the value of your digital marketing services
It would be best if you didn't overstretch your financial expectations as a newly established digital marketing agency. This is because you need to first establish yourself as a force in the marketing and advertising industry before you can start charging higher rates. Nevertheless, it pays to know the value of your digital marketing services, particularly in relation to its worth to your clients.
The truth is that it is hard to determine a standard rate for your services. However, by looking beyond the general picture and focusing on the 'behind the scene,' it becomes possible to determine your 'actual value.' To do this, you will need to look into:
How long will it take to complete a standard project?
How many resources do you need to complete the project? These include the number of IT tools or software to be used and the cost of these resources.
The level of expertise required to complete the project.
How Much is The RESULT of your campaign worth?
By evaluating these factors, you will have a better idea of how best to approach your agency pricing.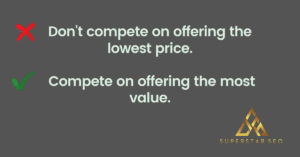 Determining your costs and calculating potential profits
The digital marketing industry has no baseline standards when it comes to pricing, which is why you need to charter your path. But, this should be done with a focus on competitively pricing your digital marketing services to attract more customers. The best way to go about this is to determine your operation costs, as this is the foundation to calculating potential profits based on different pricing models.
As an agency, when evaluating your operational costs, you will need to factor in:
Office expenses
Regardless of whether you are running your agency from a commercial space or home office, you have office expenses that need to be considered. These include:
Rent
 Internet
Equipment maintenance and repairs
Office supplies
 Security, janitorial, and general maintenance services
All these costs you have to pay per month need to be factored in when considering your overall operational costs. As a small digital marketing agency, it is advisable to strive and keep these costs as low as possible for sustainability. As your agency grows and attracts more clients, you can have the privilege of spending more on office expenses.
• Direct production expenses
To do your work as an agency, you need to invest in a number of tools and software to make your work easier. All these must-haves fall under your direct production expenses and include:
Website hosting and management cost
PPC tools
Design software and tools
CRM cost
Project management software
Office productivity software
It is easy to overlook these expenses as they are never of concern until you have to handle a project. By taking them into account, you get to have a better foundation for determining your pricing.
• Internal costs and professional fees
For your internal cost and professional fees, you need to consider the cost you spend on your employees and other professional fees. These include:
Salary or hourly rate for your team, including yourself
Bonuses and other payroll rates
Attorney fees
Bookkeeping, banking, and additional business finance costs
Once again, the secret for small agencies is to keep these expenses as low as possible. This is because the more you have to pay for these expenses each month, the more you have to charge your clients.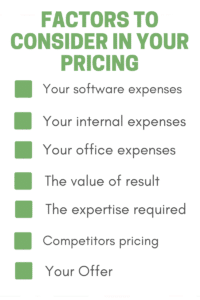 Settling on a suitable digital marketing agency pricing model
Now that you have a good idea about your monthly or regular expenses, now it is time to settle on the right pricing model for your agency. The most popular pricing models used by agencies worldwide are:
• Project-based
This is whereby you set a fixed rate for a project based on its scope and time. Also known as flat-fee pricing, this model comes in handy if you can easily determine how long it will take you to complete the project. You get to profit off your agency's efficiency, and it's a good choice if you are confident of meeting the deliverables within a pre-set deadline. The best part is that it is easy to attract new business if you can offer a standard rate for a project.
Want to learn more about building a digital marketing agency? Check out: Digital Marketing Business: Everything You Need To Know
• Hourly based
Under this pricing model, you get to charge hourly rates for service offers. It is a straightforward pricing model, especially if you can pre-determine your agency output hourly. Keep in mind that customers like this pricing model if they are confident that you will complete a project within a specific range of time.
• Retainer model
This is whereby you get to have your clients pay a monthly retainer plus other fees based on the amount of work done or the project's complexity. It is the best option if you have a long-term agreement with a client, and hourly rates would be too expensive.
For example, if you are involved in media management, this model will see you have a one-off monthly payment plus other rates based on the SEO, PPC, video content, website maintenance and other services offered.
Offer SEO? You May Like: SEO Marketing Strategy: A Complete Guide
• Commission or Performance-based
Also known as value-based pricing, this is where your agency gets to price its services based on the KPIs that are hit. It is largely used when the results of the services your agency offers are directly measurable, and your client wants to remain competitive.
For example, if you are involved in PPC advertising, you can charge your clients based on the deliverables, such as pay per click.
• Customized pricing
Finally, customized pricing is a hybrid and flexible model that allows you to charge your clients based on the project requirements. The ease of tailoring your invoices based on a project requirement allows you to work based on the urgency and complexity of the project.
For example, suppose you are engaged in social media marketing, email marketing, or Google Ads advertising, it is challenging to charge an hourly rate or fixed cost.
So, you can opt for customized pricing as it allows you to create an invoice based on the ad spend or deliverables of the project. These include factors such as frequency of mailing listing and complexity of content creation.
Conclusion
One of the most challenging aspects of running a digital marketing and advertising agency is setting prices for your services. On the one hand, you want to factor in your client's marketing budget, so your offer is attractive. On the other hand, you want to charge the best rate so that advertising for your services on the website and other channels becomes easier.
Overly, there is no magic to determining the best price for all your prospective clients. This leaves you with no choice but to settle on a pricing guide that allows you to appeal to a customer's marketing needs while allowing you to get value for your time and services.
Related Articles