Freelance Graphic Designers: Best Tools & Websites| 2022
Running your own business can be challenging, especially when you're just starting out as freelance graphic designers.
You often need access to special tools and websites to help them do your job effectively, whether finding the right fonts or ensuring your marketing materials are optimized for maximum exposure.
This guide will highlight the best tools and websites that freelance graphic designers will want to keep in their arsenal in 2022, helping you stay on top of your game as technology continues to advance and evolve over time.
Best Cheap Graphic Design Tools for Beginners
One of the most basic and straightforward solutions for graphic design.
It's especially useful for newbies because it provides a plethora of pre-designed templates for any project, from social media graphics and slide decks to logos and print marketing materials.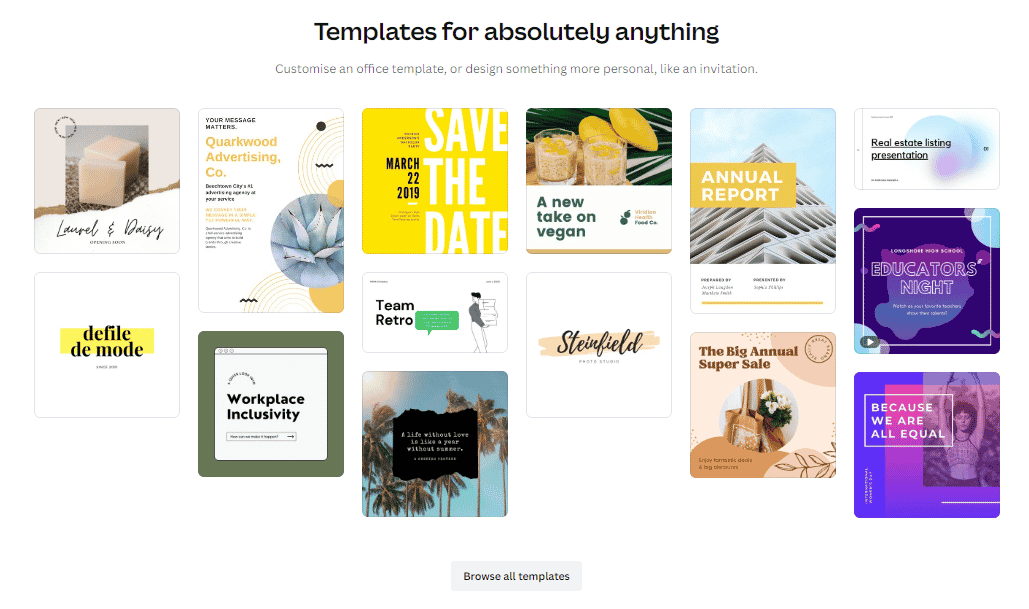 Canva allows you to work on almost any project for free (it has a generous free plan), while some templates and visual components require a Pro membership to download.
If you want to create high-quality logos or beautiful, more complex, and unique designs, Canva may not be your best option.
It's a great tool if you're on a tight deadline or budget (as freelancers often are)
Price: starts from $12.99/month for up to 5 people.
G2 score: 4.7/5 for the enterprise package with a total of 3457 reviews.
If you want to read a more detailed analysis for Canva, you can check it out here.
2. Adobe Express (Adobe Spark)
Adobe Express (formerly known as Adobe Spark) is a free program for creating graphics, web page designs, and even some video editing.
Think of it as a stripped-down version of Adobe's more powerful design tools.
Of course, you won't get all the professional-level features, but you can create and edit images, build a website or social media page design, edit and create branded designs, etc.
Most of the templates in Adobe Express are free to use, but some do require a paid subscription.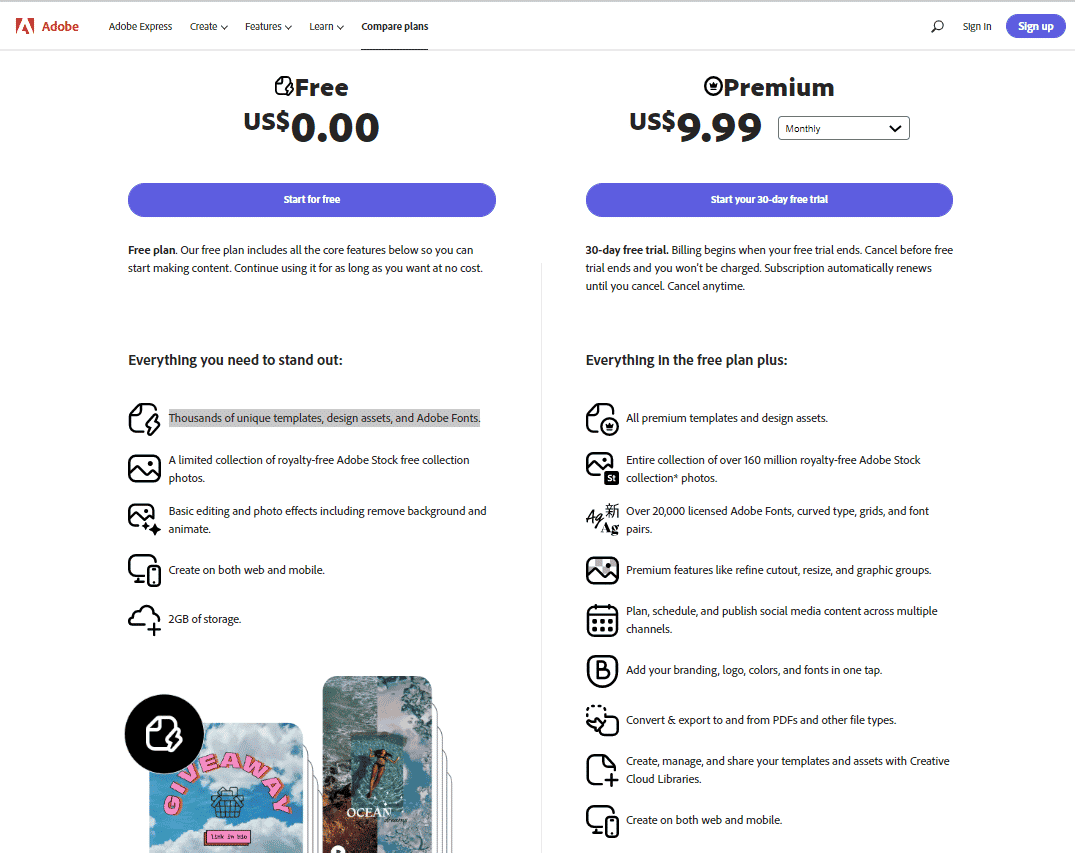 It's a great tool for designers that are just getting started. You will find it easy to build professional-looking graphics that work across social media.
Price: the paid package start from $9.9/month
G2 score: 4.5/5 with a total of 297 reviews
If you want to read a more detailed analysis for Adobe Express (Adobe Spark), you can check it out here.
Best Vector Graphic Design Tools
1. Vectr
Vectr is a great graphic design software that allows you to create designs with shapes, text, and brushes.
It offers custom shapes, and you can upload your own images onto it too.
It was designed to be easy and fun, so if you are a beginner, Vectr is a great tool to start out with.
Plus, it's free! You can't go wrong there!
It is advertised as a bona fide free alternative to Illustrator, offering an online version as well as desktop versions for Windows, Linux, and Chrome OS.
In addition to the standard vector functionality, Vectr is a great software for freelance graphic designers with features such as live collab and synchronizing via a simple URL share.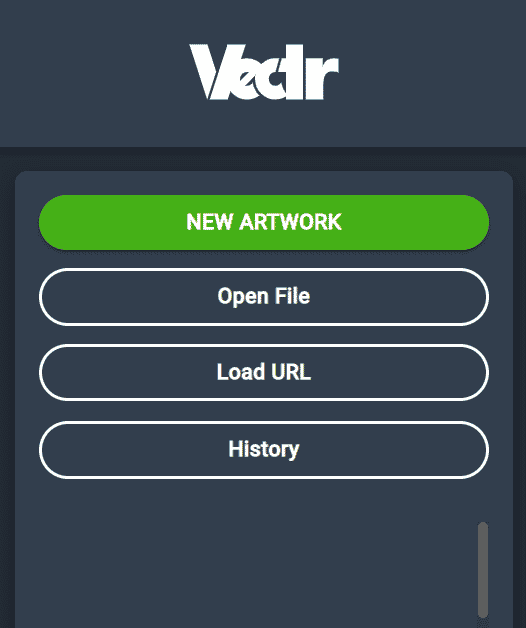 However, if you need more advanced features or want a way to save your work locally, it is not the tool for you
Price: Free
G2 score: 4.4/5 with a total of 23 reviews
If you want to read a more detailed analysis for Vectr, you can check it out here.
2. Vecteezy
Vecteezy is one of the fastest-growing vector graphics websites.
It is entirely devoted to providing top-quality vector graphic resources and ready-to-use templates to its users.
It also has many high-quality stock images, hundreds of web and interface elements, logos, icons, and character design templates that everyone can use at no charge.
The program is really simple to use, and you can get access to all of the tools you'd expect from a professional stock picture agency.
If you want to make a design from scratch, you totally can right from your browser.
Vecteezy offers a free plan, too, with millions of resources, and if you want to access the editor, you can pay on the go.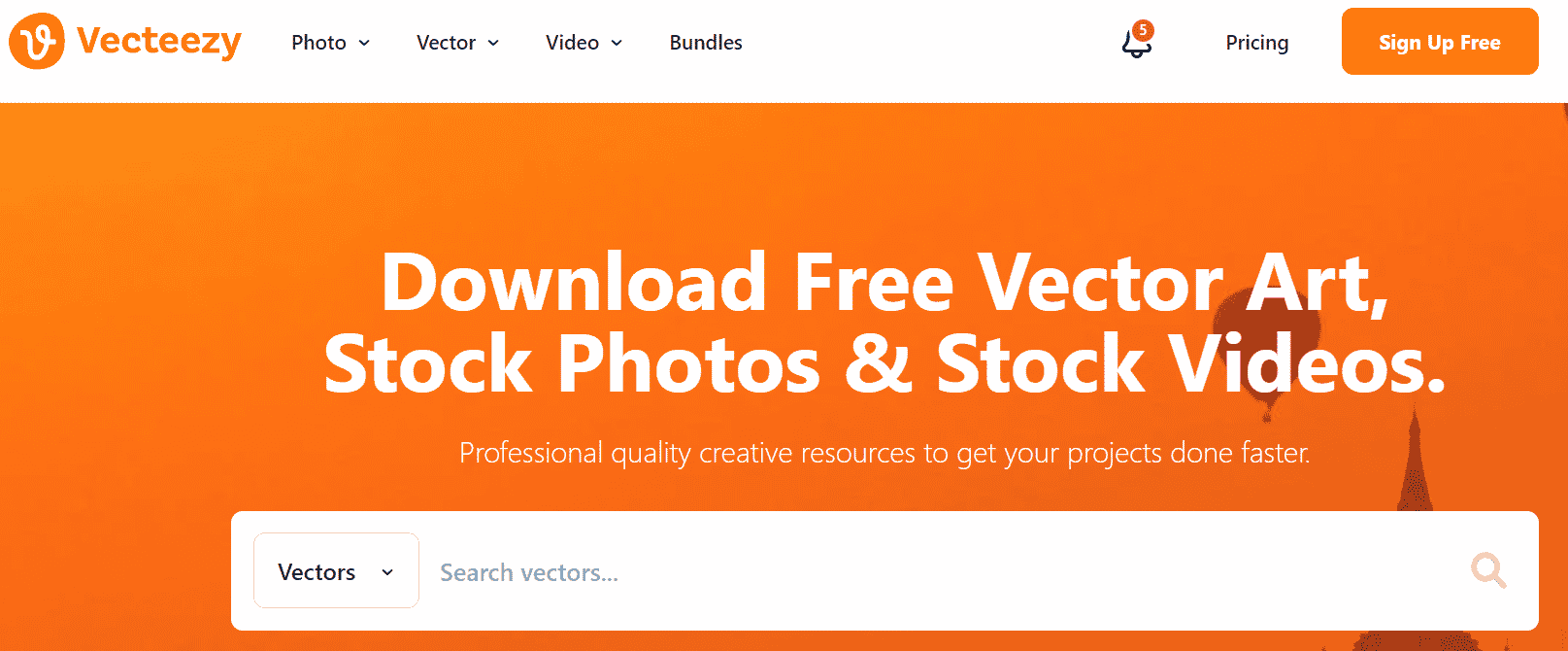 But, while Vecteezy Editor has more extensive options than Canva, free users are limited to knife tools and blending modes.
Price: $14.00/month for the monthly subscription
G2 score: 4.8/5 with a total of 676 reviews
If you want to read a more detailed analysis for Vecteezy, you can check it out here.
3. Affinity Designer
Affinity Designer is an excellent tool for professional graphic design.
It's a modern application that brings vector drawing tools to a full-featured package.
Features include layers, versioning, publishing services, and support for importing and exporting files.
That makes it ideal for freelance graphic designers who occasionally need to use standard software packages.
It's a big competitor to Adobe in its functionality—and even has several features that make it a great choice for everyone.
Of course, it doesn't offer as many features as Adobe, but it's still a fantastic, simple to use, and very affordable product.
You can even do a free trial to see if it's right for you, and you can use it on Mac, Windows, and iPad.
The best part of this software is that you only have to pay once, and the program is yours to use.
No need for a monthly or yearly subscription.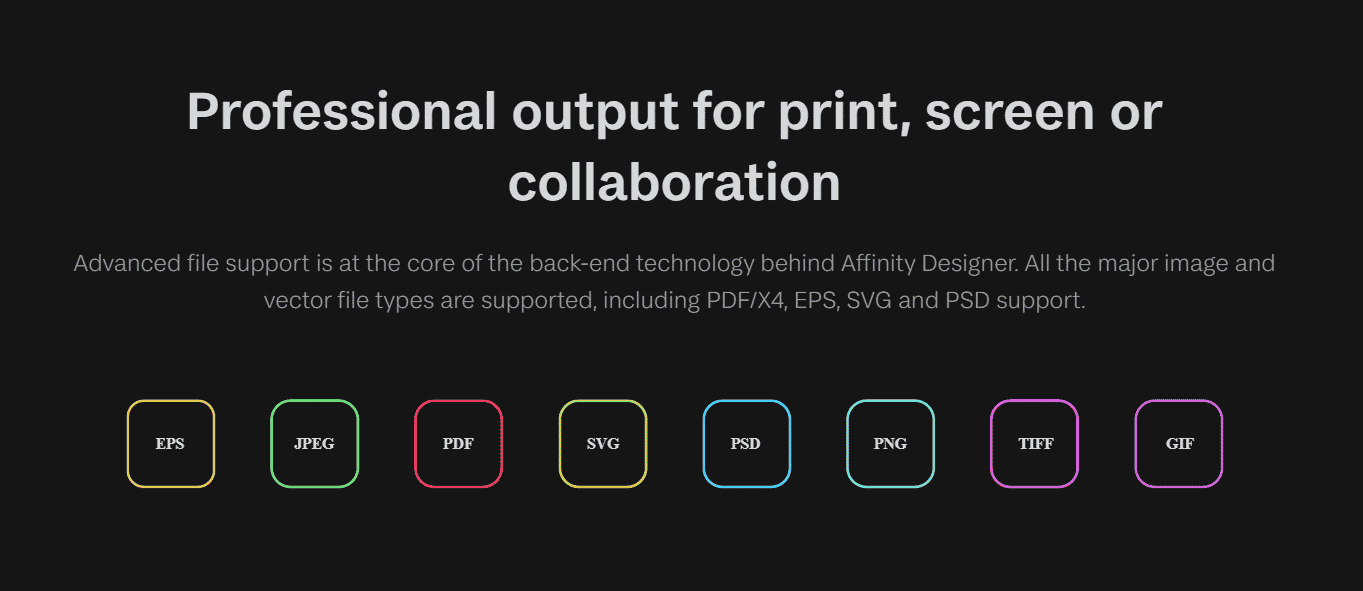 This makes it suitable for everyone who wants to create vector graphics but doesn't isn't very fond of Adobe.
Freelancers and professional designers should give Affinity Designer a try.
Price for Mac and Windows: $54.99 in total with no other fees or payments.
Price for iPad: $21.99 in total with no other fees or payments
G2 score: 4.6/5 with a total of 183 reviews
If you want to read a more detailed analysis for Affinity Designer, you can check it out here.
Best Websites for Freelance Graphic Designers or Other Tools
1.   Daz 3D
3D design software might quickly become too pricey.
However, you do not need Creo or Autodesk to create 3D designs.
Daz 3D provides everything you need at a low cost.
Daz 3D is one of the top programs for quickly creating 3D designs.
With a vast library of humans, animals, objects, and animations, anybody can get started quickly producing 3D models.
This is a free program that is available for Mac and Windows users to download.
This is ideal for freelance graphic designers who need a tool to cover everything from rigging and morphing to animation, rendering, and physics.
However, keep in mind that with this software, you don't get pretty advanced texturing and modeling capabilities.
Plus, some of the elements in Daz's catalog do require extra payment, so you can use them.
These models act as fundamental assets to your projects, scenery, and even settings such as natural landscapes.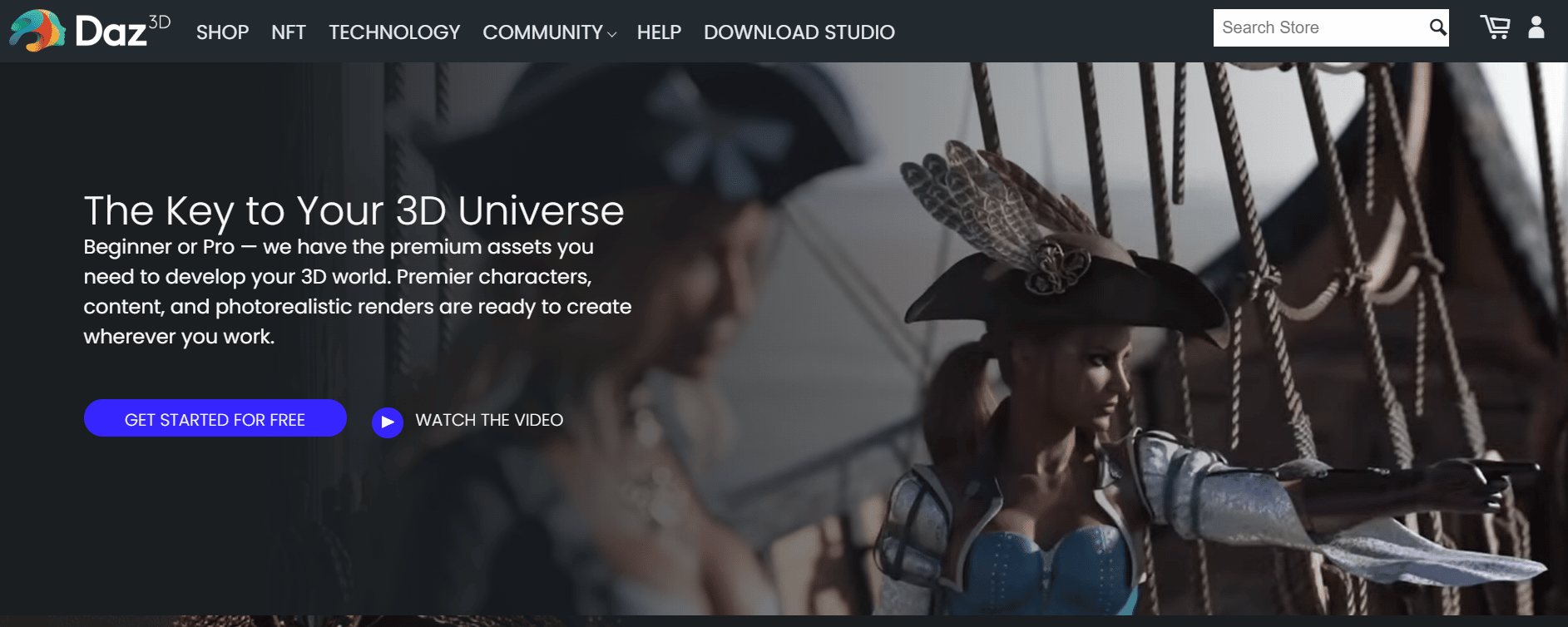 However, if you become part of their Daz + membership, you can get up to 70% off on these models, and they even offer free bundles sometimes – which is great if you don't want to spend anything.
Its swiss Army knife of 3D modeling software is Hexagon —packed with powerful capabilities and features yet user-friendly.
Price: Free software, but you have to pay for the models
G2 score: 4.4/5 with a total of 11 reviews (for the Hexagon)
If you want to read a more detailed analysis for Daz 3D, you can check it out here.
An iPad app that allows you to work on your graphics from anywhere using a stylus pen and touch screen.
If you want to be able to draw, Procreate is one of a handful of really good options out there.
It's been around for quite some time now, and its developers are constantly updating it with new features.
Even better, it comes at a reasonable price point (for Apple users) and can be bought through Steam—making it easy to share with friends and family who use PCs or Macs.
What's more, unlike Photoshop, Procreate is explicitly designed for drawing.
It has many different brushes built into it (including ones that mimic real-life paintbrushes) and layers.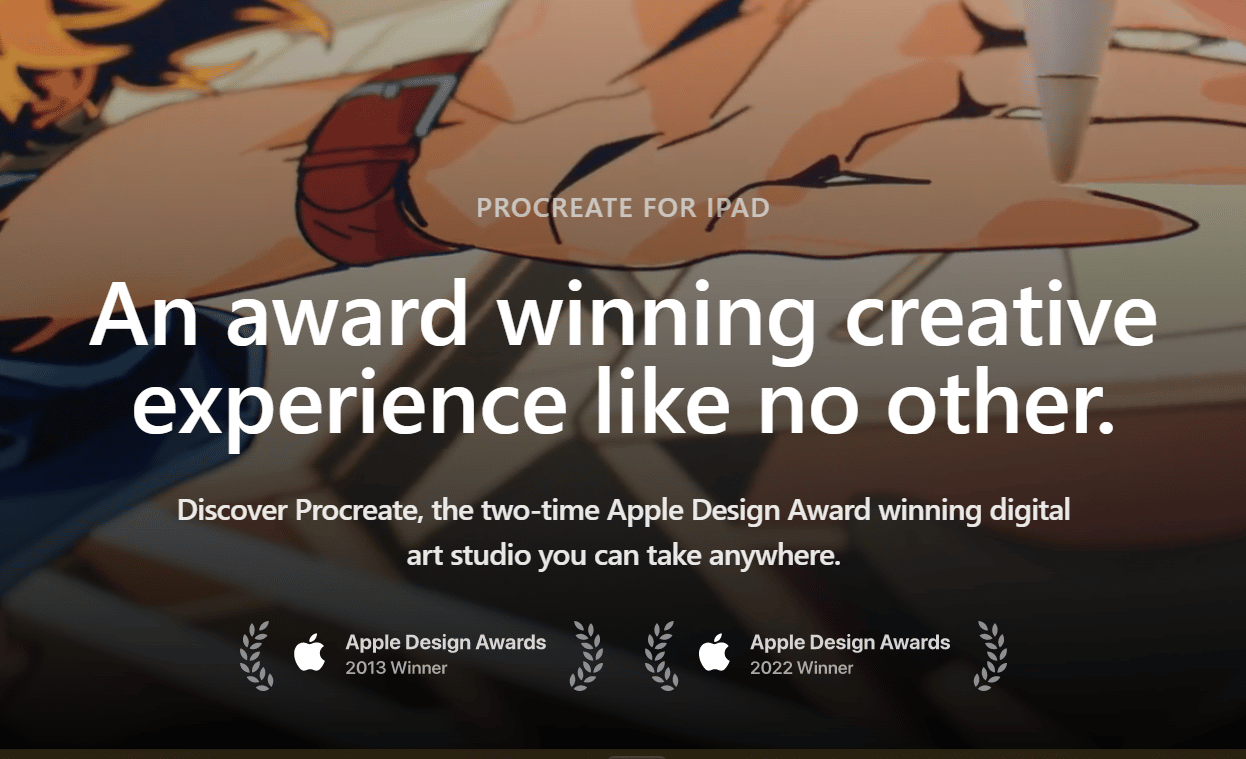 These brushes are great for freelance graphic designers who want to make incredible artwork in a smooth and fun way.
If you're a freelancer and need to draw or paint images for your clients, chances are you need a professional drawing app with great features that'll enable you to create high-quality illustrations quickly.
Procreate offers you access to hundreds of levels of pressure sensitivity.
That means that you can easily work with highly detailed textures and colors.
Price: a total of $11.99 (no subscription)
This also makes this software a steal compared to Adobe's monthly fees ($20.99/mo).
G2 score: 4.9/5 with a total of 51 reviews
If you want to read a more detailed analysis for Procreate, you can check it out here.
This powerful software simplifies image creation, giving you total creative control without knowing anything about Photoshop or graphic design.
With Visme's useful features and cool design templates, you have to simply upload images and text, arrange it as desired on one of their premade layouts, and then share your design with clients immediately.
Visme is another high-quality online graphic creation tool that takes little to no design knowledge or expertise to use.
You can build your own graphics from a blank canvas, much like Canva, and Visme's very clean and fluid interface makes this a pleasurable experience.
Their templates include a wide range of genres, including social media posts, papers, and online graphics, but they excel at visualization templates such as infographics, presentations, and charts.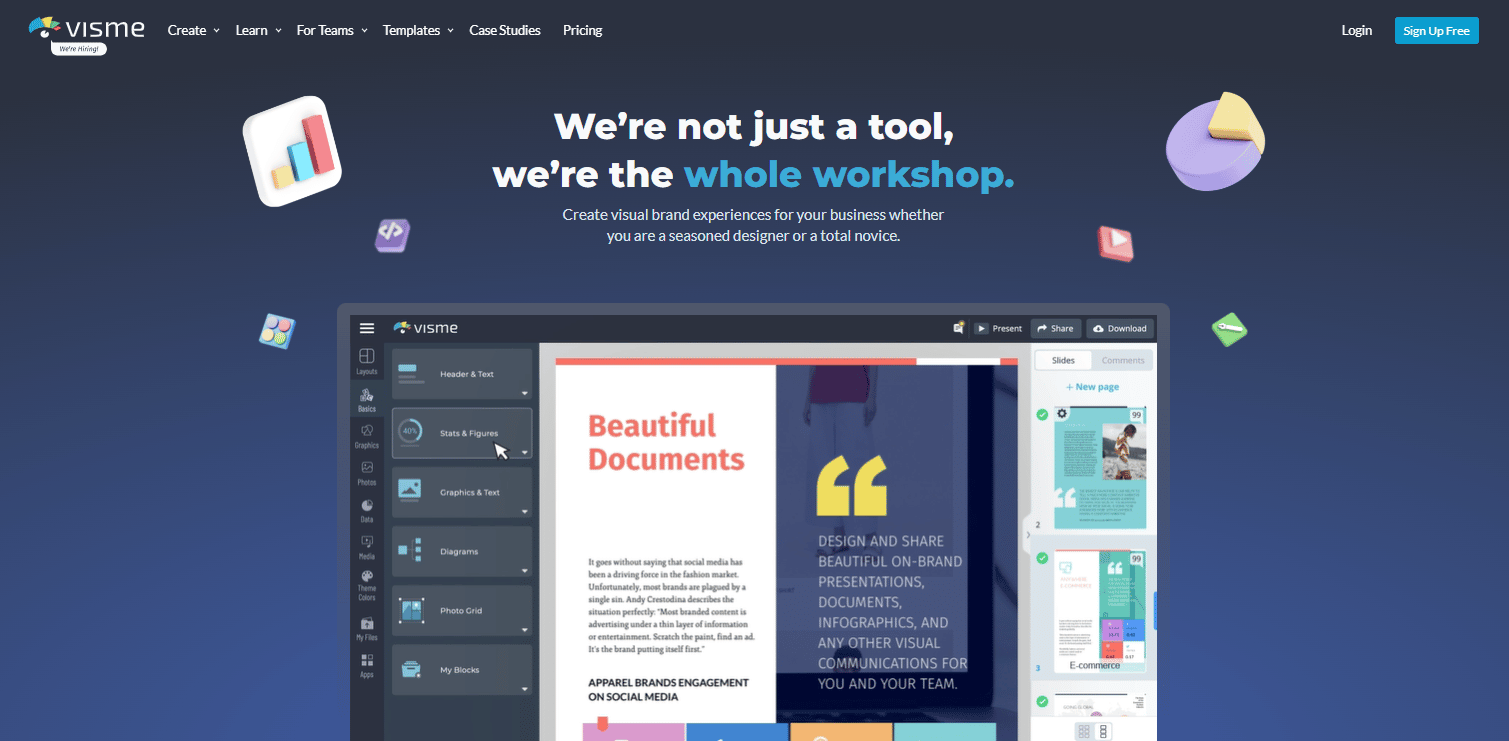 It has a sleek interface and robust functionality, but it doesn't come in cheap, especially compared to Canva.
Price: it starts from $29/month (the monthly package).
However, you will probably have to choose the business plan (this is the personal one) if you want more storage and advanced features.
G2 score: 4.55 with a total of 196 reviews
If you want to read a more detailed analysis of Visme, you can check it out here.
Conclusion
As with every other industry, graphic design is becoming more specialized as we speak.
The tools and websites listed here will continue to change, but we believe most of them will stay relevant.
With so many design-related applications and resources available online, it's no wonder why so many clients expect you to have a complete arsenal of software knowledge at your disposal—and not just Photoshop and Illustrator.
In fact, clients want freelance graphic designers who can communicate ideas clearly through several mediums and prove they have a comprehensive knowledge of today's (and tomorrow's) design trends.
So, here's to the future of freelance graphic design!
In 2023, we're sure to see even better tools come along.
Whether they'll be big or small, free or paid, we can't say.
But one thing is certain: as graphics improve and websites continue to adapt to keep up with those trends, freelance designers will have more opportunities.
Now that the market is growing and getting more (and more diverse) competition, it's important to remember that staying competitive means thinking outside of the box.
With these resources on hand, you'll be well equipped to do just that.