Freelance SEO: The Ultimate Guide With EVERYTHING You Need To Know
If you have been interested in getting started with Freelance SEO, you've come to the right place. In this guide, I'm going to show you EVERYTHING you need to know to get started with freelance SEO in a matter of hours.
Some of the topics we'll be covering include:
What to know before starting
Do you need a certification?
Topics you need to learn before starting
How To Find Clients
5 Things To Know Before Starting Freelance SEO
If you plan on getting started with freelance SEO, there's a lot that you need to learn and do to get ready for your career. There is so much, in fact, that it can often be daunting to even figure out where to get started. Not to worry, as we've compiled a list of 5 things you should know or do when starting out as a freelance SEO agent.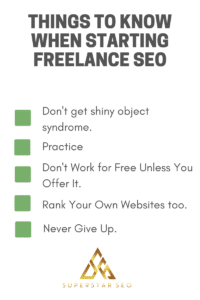 1. Don't Get Shiny Object Syndrome.
Almost all of us fall for it in the beginning. While Googling "how to do SEO," you go through a rabbit hole of free guides, eBooks, and checklists until you get to that offer where a slick-sounding dude will tell you a weird trick that makes him a specific amount of money every day for only $7.
It's just $7, so what does it hurt, right? However, $7 on that guy's special trick tends to spiral in another $7, then $20, and so on as you keep trying out everyone's course or secret tool that really will do it this time.
This is what many refer to as shiny object syndrome, where you get lost and distracted chasing the next shiny object while forgetting what you were trying to do in the first place.
This isn't to say that you shouldn't invest in tools or training. In fact, it's quite the opposite. The keyword here is investing.
You should be treating each and every purchase for your freelance career as an investment while making sure that it's something that will build up to where you really want to be in life. Easier said than done, I know. However, you can easily do research on courses or tools by joining groups (such as our Superstar SEO group) and asking around to see what helped other members of the community.
2. Practice
Just like with anything in life, freelance SEO will take a lot of practice. In theory, it seems like it should be a simple and monotonous line of work.
The truth is, though, that the small yet important aspects are what requires the most practice and experience. One great example is keyword research. It's often not as simple as it seems, especially when using tools. Some keywords are more difficult than the tool makes it out to be, while others are actually easier.
Likewise, some may be harder to monetize than others.
Setting up websites will also be a part of the job. Not every client will have a website for you to work with from the outset.
You'll also need your own websites for promotional purposes. If you actually practice at it, the amount of time you spend setting up the DNS servers and installing WordPress will decrease dramatically.
3. Don't Work for Free Unless You Offer It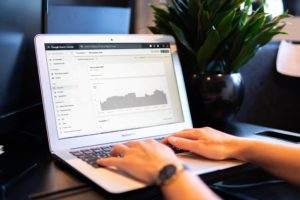 When you're just starting out, you may get the idea that you should take on some free work to build up a portfolio.
Graphic designers, writers, and even lawyers do this when they're starting out. This can be a decent idea in some situations. However, you need to know the right times and wrong times to give out freebies.
In almost every situation possible, you should reject working for free if a prospect asks for it.
Any sort of client who starts asking, begging, or in the worst case demanding free work is always going to be trouble.
Even if they bargain that they'll recommend you to all of their friends or be your client for life, the truth is that they don't ever plan on paying you and never will. The sad fact is that, while there are tons of con-artists posing as freelancers, there are just as many con-men on the client end always looking to get free work.
What you should do instead is offer free audits or offer free on-page SEO help as a lead-in when introducing yourself to a prospective client. This is cheap and will cost you just a few hours for potentially a client worth thousands.
4. Rank Your Own Websites
Before you go cold calling businesses or spending on advertising, it's a good idea to actually rank some websites of your own.
This might sound daunting, but it can be and should be done as this will be your starting "portfolio" that you can use to help promote your services. It can be done cheaply (if not for free), too, if you're short on cash. Granted, it'll take some time and a lot of elbow grease.
The cheap way is to find a decent but relatively cheap expired domain with good metrics.
Buy some cheap hosting, and pick out some relatively easy keywords. These will usually be local keywords. Write up some articles (they don't have to be very good, since you really don't care about traffic conversions). After that, start building links the hard way through profile links, web 2.0 links.
The above may take a few months to do if you actually spend time on it. If you do have some disposable cash, you can expedite the process by buying links from sites like Legiit. Remember, though, that this is only meant to be something to prove that you have ranked things in the past, meaning that you shouldn't put too much money into it.
This isn't really a prerequisite for getting into freelance SEO. However, having this will give you something to point to when clients ask if you have any experience. It'll also give you some good practice too.
Related Article: How To Do SEO For a New Website
5. Never Give Up.
This one might be cliché, but it's the most important one on this list. The truth is that most of what you do at first probably won't go like you planned. There are going to be some bumps in the road, and some things will probably blow up in your face. It may even take a while to even earn an income.
However, you should take all of those failures and learn from them. Make every roadblock a lesson on what to do next time. Giving up means that you'll be starting from zero all over again. Failure is an asset, and if you can build off of it, you'll be able to achieve your dreams.
Freelance SEO: How Can a Certification Help Your Career?
If you plan on or already are a freelance SEO, you may be curious about how SEO certification programs could help you step up your game and land more clients. It's a valid question and is worth looking into further. However, there are also some questions that should be asked about if it really will help you advance your freelance career.
What is an SEO Certification?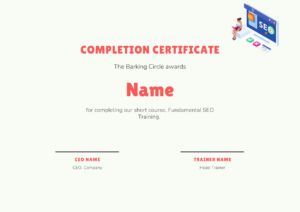 It's basically like any other type of certification. You go through a course and, in some cases, take a test. Upon passing, you're granted a certificate that acknowledges that you passed their test. Certifications exist for a multitude of different facets of SEO, like link building, keyword research, beginner and advanced SEO, among many other things you can get certification for.
Why would you want SEO certification? There are a few reasons why you might want to get some SEO certification. The first being that it can be helpful if you don't have any experience with SEO. If you've just started trying to learn how to do SEO, some (emphasis on some) of the courses can be helpful entry points into the industry.
Likewise, they can give you a minor credibility boost when marketing your services. The badges that you get upon completion can go a long way towards giving visitors to your agency's website the impression that you've been vetted by a third party. This means that you can use it as a selling point when dealing with clients.
Why You May Not Want a Certification
The first problem with certification is that SEOs who already have clients and work to their name really don't get very much out of it for the time and money involved. If you already have a portfolio of work built up, that alone will speak way more to your own credibility than a jpeg badge will in the eyes of a client.
Likewise, if you already know SEO, there will be a 99% chance that you'll have nothing to learn from any of the courses that provide certification.
As stated above, they can be a time and money sink in some cases. At the same time, this isn't always true, as some certification courses and tests tend to be quick and cheap (or even free) in some cases. However, if you already have clients or have had work in the past, you would probably be better off investing your time into your own agency website and your money into advertising for your services.
Things To Look Out For When Looking For SEO Certifications
There are certain things you should be wary of when looking for an SEO certification program as a freelance SEO. The first thing that you should keep in mind is that Google doesn't offer any sort of certification for SEO at all. Period.
Google does offer some "courses" (more like tutorials) on how to use their products, but they don't have certification courses or exams for SEO. Because of this, you should avoid anyone who purports to be a "Google Certified SEO" and also avoid any sort of course or training purporting to be able to certify you with Google.
You should also do some research on any sort of course or certification you plan on taking. Did it help anyone actually land clients?
Was the course material of good quality and full of up-to-date information? Do you really get the certification at the end? These are just a few of the questions you should be able to answer about any potential certification course that you're thinking of doing.
Alternatives To SEO Certifications
There are plenty of free courses offered by respected companies that can teach you the basics of SEO. Granted, in most cases, you won't get the little badge that says you did it, but if you just want to know more about SEO in a concise and structured manner without too much of an investment, you should look into some of these.
The first free course that you should check out is Google Analytics Academy. While the unspoken rule of SEO is to usually ignore anything Google says about how their algorithms work, Google Analytics Academy is really an over-glorified tutorial on how to use the Google Analytics tool.
This is pretty useful since the Google Analytics platform can be pretty confusing for new users and tends to have a lot of functions that are handy for niche purposes. You actually do get a little badge that you can stick on your agency's site and a certification that you completed.
You should also check out our very own Chris M. Walker's Youtube channel. In addition to tons of insightful and informative videos on many different Freelance SEO and internet marketing topics, he has dozens of playlists that are pretty much courses in their own right.
You can learn anything and everything you need to know about beginner SEO, inside info on the ins and outs of client SEO, and even how you can start your own freelance SEO gigs. You'll also learn the truth about link building and how to do it effectively.
Should You Get an SEO Certification For Freelance SEO?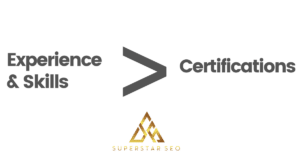 Ultimately, the answer to whether or not you should seek SEO certification lies in what you want to do with your freelance SEO career. There's no doubt that it could be helpful if you want to work as a virtual assistant or if you think trying to get employment at an agency before starting out on your own is right for you.
However, actual experience and success will matter more in the long run when trying to land clients. In that regard, the information found for free at places like Youtube can be of more use than the somewhat vague and beginner-oriented info found in most of the paid mainstream courses.
Overall, you probably shouldn't pay too much for any sort of certification course, and you shouldn't really put much emphasis on having or not having it. However, it can't hurt to try out a few free or cheap courses just to see if there is something you can learn from them.
Topics To Learn To Become an SEO Freelancer
While you don't necessarily need an SEO certification to become an SEO freelancer, you must still ensure you learn the needed topics. Otherwise, you will struggle to get results for your clients, which will mean they will not continue to use your service.
Below I've listed some of the topics you should get training on as an SEO.
Related Article: How To Learn SEO
1. On-Page SEO
On Page SEO is the process of making the content of a website more user friendly and search engine friendly.
This can include making sure that the word count on every page is at the appropriate level, making sure that there are enough pictures on each page and that all of those pictures have the correct meta-data on them, increasing the speed at which the site loads, and making sure that any plug-ins are up to date, among many other things.
2. Off-Site SEO
Off-site SEO is one of the most important freelance SEO topics that an SEO training course can possibly teach you. This is because you can damage a website's SEO prospects if you don't know what you're doing. That statement isn't meant to scare you away from SEO either.
However, there is a lot that the search algorithms tend to look at that can be "polluted" with poor choices in links. For example, certain types of backlinks are deemed "spammy." However, those "spammy" links can be utilized by other "web properties" that you may want to rank, like social media profiles. A good course should be able to tell you how to use every type of back-link and the differences in how to link to your own self-hosted properties and to third-party sites known as "Web 2.0s".
You may also like: How To Build Backlinks For Beginners
Learning about Web 2.0s and how to use them is also important. Web 2.0s are essentially any sort of web property that you can change and manipulate but that you don't really own.
Examples of Web 2.0s include free blog sites (Wix and WordPress.com), social media sites (Facebook, Linkedin), message and bulletin boards (Reddit, legacy vBulletin sites), video platforms (Youtube, DailyMotion), and pretty much anything that gives you an editable Profile or the ability to post links.
Being able to use social media is also another important thing that any good SEO course should be able to teach you. Using social media is about more than just making a profile for your site and forgetting about it. You have to make sure all of your social media feeds link back to each other and are "chained" together, so to speak.
3. Local SEO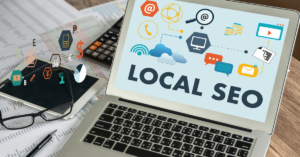 Local SEO, on the surface isn't too different from normal SEO. However, there are many different factors that you have to consider and deal with as opposed to normal (often called national) SEO. For example, Google My Business (GMB) is a huge aspect of ranking for local keywords and search terms that don't factor into national SEO at all.
Likewise, NAP (name , address, phone number) and its placement on your site is important for ranking.
Even if you don't plan on doing Local SEO at the moment, any good course should have at least some information on the topic for you to reference back to later.
4. Technical SEO
Another area that you'll want to learn well is technical SEO. I find that this is my least favorite side of SEO, but if you are responsible for delivering results to your clients, it's still something you need to learn.
However, you can also freelance in the other areas, without having too much knowledge of Technical SEO.
How To Find an SEO Course
You should start by looking at who the instructors are. Are they industry veterans with proven track records, or are they odd "gurus" who have only ever sold courses but never actually made money with SEO?
Likewise, what does the SEO training have to offer to you? Is it a fully fleshed-out course that shows you how to do freelance SEO from A – Z, or is it a course that promises to show you "one simple trick" ?
You probably get the point of what I'm contrasting, but you want a course or SEO training program that is taught by people who actually do SEO for a living and will teach you everything there is to know about SEO.
Among those options, there are plenty to chose from. Our very own Superstar SEO Academy offers you everything you could ever want from an SEO training course. With an affordable monthly subscription plan, you can learn on your own time without having to shell out tons of money.
The course has updates made to it when necessary, and you gain access to a Facebook community full of exclusive information and helpful SEOs who can answer any questions you might have. Join today and get started on the road to becoming financially independent as a freelance SEO agent.
How To Make Money as an SEO Freelancer
Freelance SEO is one of the best ways to make an income with SEO. SEO, in general can open up a lot of opportunities for you. However, with things like blogging, lead generation, and affiliate marketing, it can take time (and we mean a lot of time in some cases) to actually become a source of livable income for you.
With freelance SEO, you can (hypothetically) attain an income stream in a matter of just a few phone calls or e-mails.
It's not uncommon to see SEO's on social media touting their agency that employee's a dozen or so other SEO's, but plenty of SEO experts work as freelancers. Becoming a freelance SEO has a lot of advantages over working for (or as the head of) an SEO agency.
Let's take a look at the two main ways that you can earn a living as a freelance SEO expert: Working for other businesses who need your help or doing outsource work for SEO agencies.
Client SEO:  How It Works
Working for businesses that need your SEO knowledge is frequently referred to as "client SEO." This is where you, as a freelancer, take on clients and rank their sites. It's pretty simple as a concept, and you really don't have to start an agency or hire anyone to help you. Granted, you'll still have to take care of many of the different aspects of freelance SEO on your own.
For starters, you have to find clients. This is, by and large, the hardest part of freelance SEO for most people. The typical strategy that most people use is cold calling. This involves calling up a business and trying to sell them on your services.
How To Find Clients
One of the main tasks of freelance SEO is finding clients. Below, I've described all the ways you can find clients as an SEO-freelancer.
Cold Calling
There are plenty of different tactics and strategies that freelancers use when cold calling. The first (and worst) is to just call up every business you can and try to sell them your services straight away.
This approach tended to work (at least, according to some SEO's who were active back then) when the concept of SEO was new, and businesses hadn't been inundated with thousands of con-artists passing themselves off as legitimate SEO businesses. That isn't to say this method won't work, but there are much better and more efficient ways to do things.
Cold Email
Cold e-mail is similar to cold calling but can sometimes have better results if you know how to play the game correctly. To get started, you usually purchase software intended for mass emailing, as well as a domain to send emails from.
Rather than trying to do a hard sell, send an offer for a free service (usually this would be something like an SEO audit or setting up a social media account for them), and then lead into a pitch for your SEO service after building trust with your potential client.
Building trust is perhaps one of the most important aspects of working as a freelancer. You don't have the established branding and trust of a bigger company backing you up; hence, becoming someone that the client can trust and knows is the most fundamental aspect of actually succeeding as a freelance SEO.
This is one of the main things that Zig Ziglar taught in his book "Selling 101", where he explained that he learned to listen to potential customer and find out what their needs are, and craft you pitch around addressing those needs.
Related Article: Email Subject Lines That Work – 5 Examples With High Open Rates
Social Media
In this way, social media is one of the best tools you can find to interact with and build relationships with potential clients. Of those, Linkedin is probably one of the best for making connections with business owners and decision-makers.
Keep in mind; you should be as genuine as possible when dealing with potential clients and building those relationships. That is to say, be yourself. If you try to just "butter them up," they'll know what you're doing and never reciprocate you.
You should make sure that your bio, name, and most other static fields that you can enter text into containing some reference to what you do. Something to the effect of "John Smith: SEO Optimization Expert" in the name field, with a link to your own website detailing your services in the bio.
Things To Look Out For Before Starting Freelance SEO
If you want to do freelance client SEO, there are some things you should look out for. Always make sure that you can actually make good on what you promise to your client. You should also never give in to demands to do more than what you were paid to do.
Prospective clients who demand or beg for free work (beware sob story scammers) should be avoided. Most will never pay you or will try to entrap you.
Maybe all of the above sounds intimidating to you. If you aren't a very sociable person or just feel that you aren't ready to handle all of that, you should give the various "gig" service sites a shot. While there are still responsibilities that you have to keep up with, and you will still be dealing with clients, there are many advantages to running gigs over trying to do full-time freelance client SEO.
For starters, your duties are clearly outlined in your description when the client makes an order. Sadly, when doing client SEO as a freelancer, less pleasant clients might start asking for (or demanding) work that you never signed on for or results that are impossible.
When you use a gig site like Fiverr, SEO Clerks, or our very own Legiit, the customer pays for your service, and you get paid upon delivery. All funds are held in escrow, and disputes are handled in a fair manner. Meaning that when your client demands more than you promised, gets angry, and leaves, you still get paid.
How To Start Freelancing SEO in hours
You first have to set up an account on the sites you plan on offering services for. Depending on the site, you may need to have some documentation ready or may need to have an administrator approve your account. Once you're in, you create your service pages.
If you've ever worked with software like WordPress, starting up a service listing is almost as easy.
If your thinking about getting into freelance SEO, you should take a look at Legiit.
Legiit offers some of the best SEO services on the web, as well as the best place to offer your own services. If you plan on doing client SEO, you can use the services offered by trusted experts on Legiit to speed up the process of ranking your clients. On the other end of the spectrum, if you have the ability to offer services like link building to other SEO's, it's a great way to earn extra income from the infrastructure you already have.
Freelance SEO: Consider Outsourcing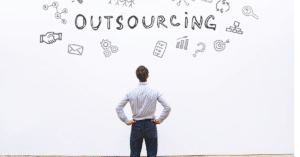 If you're working as a freelance SEO, one of the hardest aspects of the job is probably the grunt work involved. It doesn't matter if you're working for a client or trying to rank your own websites for a project, it's tedious to do all of the link-building and other associated tasks on your own.
If you're at a certain point in your freelance SEO career, it probably isn't practical to pay for the various automation tools that would save you time. However, outsourcing SEO work to people who do have the time and the automation can be a cheap and efficient way to get more done in less time.
Let's take a look at how you can get started outsourcing your SEO labor today.
What Tasks Should You Outsource?
To start with, you may be unsure about outsourcing your own work. Is it expensive? Will the other freelance SEOs actually give good results back? While this can sometimes be an issue, the good news is that you can do some homework and figure out if a freelancer is legitimate or not (more on that later).
In general, you should consider hiring a freelance SEO outsourcer when you have tasks that you won't be able to do on your own in an efficient, timely, or economical manner. You probably shouldn't outsource when you can easily or cheaply get the job done yourself.
For example, if you're a good writer, it may not make sense to outsource the writing duties for a job when you can easily handle it yourself, while you may instead want to outsource the link-building aspects.
There might also come the point where you should stop outsourcing altogether. This would be when you have so much work that it's more economical to purchase automation software and hire full-time staff.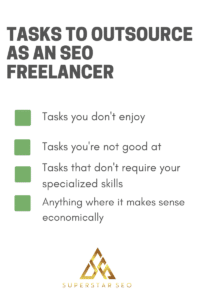 What To Look Out For Before Outsourcing
When outsourcing your freelance SEO tasks, there are a few things you should look out for. To start with, make sure that you read the reviews for each service you plan to buy. Are the most recent reviews positive? Was the quality rated as being high? Do the reviewers seem to know if the services actually did anything at all?
Another thing to watch out for is if the service promises more than it can realistically deliver. If you've been doing SEO for even a few days, you know there isn't any way that someone's going to magically rank you on page 1 with a single set of links, especially for $12-$20. Not always, but usually, these "too good to be true" gigs typically deliver low-quality work.
Test First.
You should always test out any service, even highly rated ones, before you use them on important projects. If you'll excuse an analogy, you have to use outsourced links on your site like you would paint on a plastic model. Most model builders will test paints out on spare parts before using them on the actual model to make sure that it looks good (or that it doesn't melt it).
Likewise, you should have some "spare" sites that you can test the gig out with. If you just want to see what sort of links (or whatever else you bought) you get back, just have a few webs 2.0 blogs to direct the links to.
Likewise, if it's something like PBN links, build a site on cheap hosting (Namecheap offers nice cheapo hosting for cases like this) and send them to it. If the links get you de-indexed or penalized, you don't lose much, and your main project is safe and sound.
What services should you outsource specifically? Overall, you can outsource almost everything to some extent. However, it really depends on what your current needs and situation is at the moment. If you have an SEO client, you can easily outsource the building of profile links, and generic links to other freelancers.
If you have a client who needs social media accounts made, you can get a graphic designer to make some banners and graphics for the accounts. Likewise, you can have writers who are well versed in SEO write new content for your client's pages.
Pretty much, any aspect that you may not have the time or expertise to handle can be easily and cheaply outsourced.
Hiring a VA
When you start getting more work than you can handle, you may also want to consider hiring a VA (virtual assistant). Virtual assistants are people who you can delegate work to and will help with various tasks. They are often other freelancers who've just started their careers, and are looking to earn some money with their skills while they build up their own businesses.
They can help you do everything from placing orders on outsourcing sites, fulfilling orders, writing up invoices for clients, creating backlinks, running reports, and even doing research. However, hiring a VA isn't really something a new SEO freelancer should think about until they really need one.
Where should you look for freelance SEO help? There are tons of sites you can choose from, though it can be hard to know which ones are trustworthy.

With sites like our very own Legiit, we have a fully fledged community of sellers and buyers on both the platform and in our Facebook group. Other gig sites like Fiverr and SEO Clerks have built up good reputations as well. If you need specific freelance SEO help, you can also check out sites like Freelancer.com.
Lastly, you may want to consider becoming an outsourcer a yourself! If you're just starting out as a freelance SEO, you may want to try working on a gig website to help bring in some income during slow periods in-between clients.
Likewise, if you've invested in SEO automation software of any kind, you can often off-set the cost of it by using it for other freelancers.
Most of the sites commonly used for outsourcing are also great ways to meet new clients and pick up an audience that you can monetize in different ways later on down the road.
If you're interested in outsourcing your freelance SEO work (or becoming a outsourcer yourself), give Legiit a shot.
Featuring some of the best talents online, you can find plenty of freelancers who have a wide array of skills and offers that you can choose from. The moderation team also does it's best to keep the site clean. Likewise, their community offers deals and support. Come take a look today, and see what Legiit has to offer!
Final Thoughts
I hope you have enjoyed this enormous guide on freelance SEO and that it has been helpful to you.
My final piece of advice would be to just get started, and continuously learn.
You'll learn a lot more from gaining experience and working on different projects. So, don't wait until you think you know everything, because that's impossible.
Apart from that, just don't give up, and you should succeed.
With that being said, if you would like to read more on freelancing and SEO, check out some of the recent posts below.
Freelance SEO Expert: Make $10,000 a Month Passively With Freelance SEO