Local SEO: The Ultimate Guide For 2022
If you are looking for a step-by-step manual on Local SEO in 2022, then you should read this comprehensive local SEO guide till the end.
In this ultimate guide on local SEO, you will discover :
How to rank in the map pack
The best practices to optimize your GMB profile
The fastest way to build your NAP citations for local SEO
Strategies for getting the best keywords for local business
Effective link building strategies
And a lot more!
But first, let's start from the basics.
Local SEO Roadmap
Fundamentals of Local SEO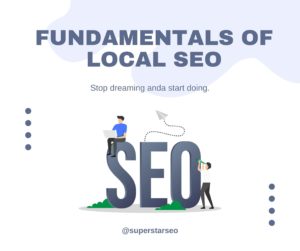 In this section, we define Local SEO, examine how it works, and provide substantial evidence for why local businesses should bother about it.
Further, you will learn about the Google Map pack, how it works, and the best strategy to track your ranking, either as a beginner or an expert.
What is Local SEO- A simple definition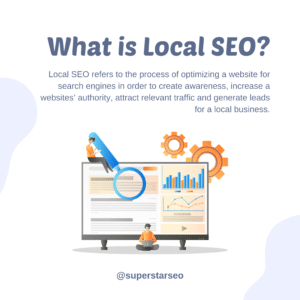 Local SEO refers to the process of optimizing a website for search engines in order to create awareness, increase a websites' authority, attract relevant traffic and generate leads for a local business.
To put it into proper perspective, let's consider this illustration:
When you search for a plumber in Atlanta, you won't get results for a local plumber in Arizona. The results that would pop up would only be relevant to the Atlanta area.
The process of optimizing a plumbing business website in Atlanta for a keyword targeting people that are looking for plumbing services is known as local SEO.
Common local SEO activities include relevant local keyword research, Google My Business optimization, and creating "NAP" citations.
Why should businesses bother about local SEO?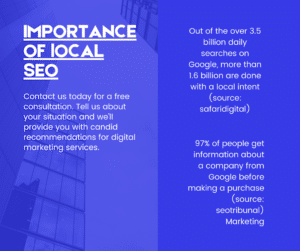 If you are a local business and you are not yet tapping into the massive potential of local SEO, you are not just losing potential clients that need your service but you are losing a significant amount of money.
Here are a few stats for you to ponder upon:
Out of the over 3.5 billion daily searches on Google, more than 1.6 billion are done with a local intent (source: safaridigital)
88% of customers searching online on mobile end up calling or visiting a store within a day (source: hubspot)
97% of people get information about a company from Google before making a purchase (source: seotribunal)
All these facts point to one direction: local SEO is important for any business.
It has been established that whenever a prospect conducts a search for your product or services on Google and you are not visible, you are losing both customers and money.
More importantly, you lose the opportunity to create a positive impression on the mind of your prospect. People trust a business with an online presence over a business without any online presence.
As we have seen from the statistics above, 97% of people rely on Google to learn more about a company before making a purchase.
Essentially, they want to learn more about the company's products and services, their customer's reviews, and find answers to questions that will help them decide to make their purchase.
Let's take another example to illustrate the importance of local SEO:
Nick just moved into Myrtle Beach, SC and he's in need of a local plumber to fix his bathroom. When he searches on Google with the keyword "hire a plumber", only plumbing businesses optimized for that area would pop up in his search results. And there's a high chance that he'll call one of the plumbing businesses on the first page of Google.
So you see that the first page is important, right? When you take advantage of local SEO, you are expanding your business revenue potential and exposing it to more qualified traffic opportunities.
Local SEO: How does it work?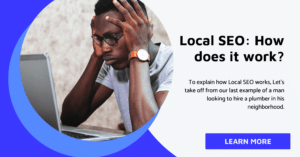 To explain how Local SEO works, Let's take off from our last example of a man looking to hire a plumber in his neighborhood.
It seems illogical for plumbers in Arizona to pop up when the man in Myrtle Beach, SC searches for a plumber to hire on Google, right?
That's exactly the point of local SEO: proximity, authority and relevance to the searcher's intent.
There are many results that have been indexed by Google for the keyword, "hire a plumber", but local SEO is used to deliver relevant results to the user based on his location.
Over the years, as the internet witnessed a surge of web pages, users' search intent gained prominence. So the proximity of the searcher to the website became a crucial factor for the selection and ranking of web pages.
Therefore, in optimizing a website's local SEO, these local SEO Factors, according to MOZ should be taken into consideration:
Searcher's location
Business Name, Address, and Phone numbers citation
Verified business on GMB
Proper categorization of Business on GMB
location-based keywords in GMB profile
Keywords of service/products in GMB profile
Quality of online reviews
Quality of engagement on social media
Diversity of inbound links to a domain
Driving directions to the business
And many more …..
With that said about local SEO, you may have come across the "Map Pack" in your research on Local SEO. We shall now examine what exactly does the Map Pack mean.
The Google Map Pack: What does it mean?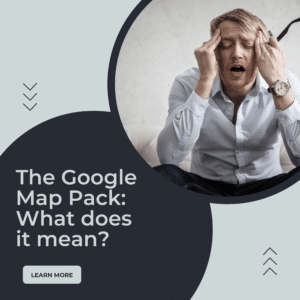 Let me explain the map pack with this illustration:
When you google the keyword, "dentist Texas", the search result will most likely return a map with three locations of a dentist nearby on the top of the SERP (search engine result page).
Those three dentists' locations on the Map, together with their NAP details that you will find below the map are what is referred to as the Map Pack.
Also known as a local pack, the map pack refers to the regular three or four business listings that appear on the top of the SERP for most search terms with local intent.
I know that you are wondering how you can also rank your business in the Map Pack.
You see, the Map pack has an algorithm of its own and there are specific requirements that need to be met in order to rank in the Map Pack. We will return to the algorithm requirements in the subsequent section of this post.
So the most crucial factor in ranking a Map Pack is the NAP details of the business. You must ensure that it is consistent across platforms.
The second most important factor in your GMB optimization is your keywords. After you have properly done your local keyword research, in your GMB profile optimization, you want to optimize for store+city/ service+city. This will enable Google to index your business as a relevant result and serve it in the Map Pack
I know on some occasions, you may have come across the Map Pack in organic results, and you may wonder why. Well, this happens because Google provides results from its index that it deems relevant to your search query. As much as proximity is a crucial criterion in ranking results, Google also prioritizes relevance in serving results to your query.
The Map Pack Tracking: How to track rankings like a pro?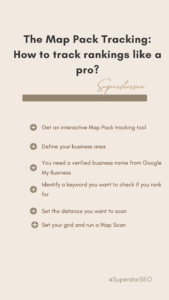 In this section, I'm going to take you through a step-by-step guide on how to track your Map Pack ranking like a Pro.
Step 1:  Get an interactive Map Pack tracking tool
The first step to tracking your rankings like a pro is to equip yourself with the pros gadget. Now, no need to imagine fancy complicated kinds of stuff.
To begin tracking your position on the Map Pack, you need an interactive tracking tool that makes it easy to compare your business performance versus other businesses.
If you are familiar with most rank tracking tools, you would have come across the Map Pack tracking feature on your dashboard.
And if you are unfamiliar with rank tracking tools, it is software used to track the position of a website on the search engine, providing detailed information about their performance versus other competitors' performance.
From the rank tracking tool, you can identify both a competitor's strengths and weaknesses. Popular rank tracking tools include Moz Pro, Semrush, Local Falcon, Local Viking among a host of others.
The Map Pack tracking tool enables you to track the position of a business within a specific distance on the Map pack. Armed with your Map Pack tracking tool, the next step is to use it, right? Let's go to the next step.
Step 2: Define your business area
What is local to you may not be to Google. That your business covers up to 4 miles (6km) does not mean that Google will always rank you ahead of your competitors.
In fact, because of the proximity factor, Google is likely to rank a business within one mile of the searcher ahead of you in the Map Pack.
So when you set out to analyze your Map Pack ranking, you should do so within a defined area. Simply put, you need to identify a specific distance you want the tool to analyze.
Step 3: You need a verified business name from Google My Business
To use the Map Pack tracking tool, you need to have a business name associated with a Google My Business account.
Google only ranks verified businesses in a Map pack. So you should open a verified GMB and fill your business details correctly on the Map so that you will be able to continue using the tracking tool.
You may like – How To Price SEO Services In Your Agency
Step 4: Identify a keyword you want to check if you rank for
For instance, this could be your service/ product offered + location. You don't want to be vague here. You should enter a keyword that a potential customer would likely use to find your business in your area.
If you are not sure about the keyword to search for, you can use a keyword research tool to evaluate the traffic and relevance of a particular keyword for your business.
Step 5: Set the distance you want to scan
The final step of setting up your Map Pack tracking is to input the distance you want your scan to cover. You need to make sure that your business covers the set distance. If it doesn't you would get irrelevant results and you won't know where you rank in the Map Pack for the area your business covers.
Step 6: Set your grid and run a Map Scan
Depending on how far you want your scan to cover on the map, you can set your grid from 3*3 to 15*15. For an average coverage view, you can set it to 7*7.
All is set. Now you are ready to run a map scan. Hit the scan button.
Your result should look like this:
You'll get an interactive result showing you how your business is performing for different locations within the area.
In the above results for a plumbing business in Tucson, you can see that the outskirts areas highlighted in red reveal that the business won't show in the Map Pack if a customer searches for the plumbing business within those locations.
But as you move downtown, the business will begin to appear on the Map pack.
Now, just like the plumbing business in the above example, it's not necessarily a bad thing if your business is not ranked in the Map pack on the outskirts of your location.
There could be a more centralized business in that location offering that service. So, Google would rank that business ahead of you because of the proximity factor.
In essence, you should use this tool to scan areas your business should be ranking well and not just your entire area.
You want to make sure you are seeing the right results and you are also saving your search credits. Most Map Pack scan tools come with a subscription service.
Keyword research for Local SEO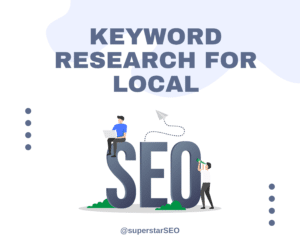 As with all websites on the internet looking for traffic from Google, you also need to optimize your local business for the right keywords so that your customers can find you.
This step is important because it can affect the conversion quality of your local business.
Let me explain what I mean by that:
For instance, let's say you own a plumbing business in Tucson, Arizona and you get more traffic from Myrtle Beach, South Carolina, or from outside the US. That kind of traffic is poor because you can't convert that traffic to customers. The reason why you attract this kind of traffic is often because your business is optimized for a general keyword.
On the flip side, if the traffic to your local business is from Tucson, Arizona, then you have high-quality traffic because among that traffic, your potential customers can be found and you can get more calls to your local business.
It is important for you to get the keywords right because you want to be sure that you are targeting the right audience. This audience is usually a small population looking for your service. So there are only a few keyword strings that you will be looking for in your research. This is because your audience only uses that small set of keywords to find your business.
If you don't know how to decide which keywords to optimize your local business, no worries.
We've got you covered. Let's see some strategies to discover quality-traffic keywords for your local business.
Strategies for getting the best keywords for your Local Business
What keywords will your customers use?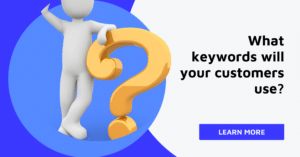 Here you want to put yourself in your customer's position. Although, it may be difficult to do that since what you imagine as the keyword your customers will likely use to search for your business may differ from what they'll actually use. So you can conduct a survey among your customers to know which words they may likely use to search for your business.
Nevertheless, the keywords your customer may likely use could be the product/service you offer plus your location.
So if you own a restaurant and you sell pizza, you want to consider pizza+ your location (let's say Tucson). Therefore, you can have keywords such as pizza shop in Tucson, buy pizza Tucson, pizza in Tucson, etc.
Study competitor's metadata
Google snippets containing your competitor's meta description, their meta title, and the keyword used in the URL string are rich points for extracting relevant keywords to rank your local business. You can also study your competitor's website homepage and blog to see the keywords that they are already ranking for.
Related – Legiit Leads Review – SEO Leads On Autopilot
Use Google Autosuggest
Google autosuggest feature is another great source of rich keywords for your local business. To use this feature, you can start by typing your product/ services and then take note of the keyword strings that follow. For example, if you want to rank a local restaurant business, you can start by typing a product you offer (e.g. pizza) in the Google search box.
If you don't get a result relevant to your business in the first suggestions, you can modify the suggestions by typing the first two letters of your location.
Then if you are not satisfied with the modified suggestions, you can type the full spelling of your location.
With this,  you should have a better keyword list that would be useful for your local business.
Use a keyword research tool to see keywords that your competitors are ranking for
Keyword research tools such as Google Keyword planner, Semrush, Ahrefs, or Moz make your keyword research easy. You can input your competitor's site on their keyword research tool to see a list of the keywords that your competitors are ranking for. You can then extract this and save it in a Google sheet.
After keyword research is done, let's dive into the ultimate checklist for Local SEO optimization.
Ultimate Checklist for Local SEO optimization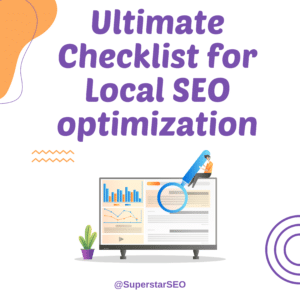 Essentially, this checklist is an outline of what you should be doing right to rank your local business.
This checklist for local SEO optimization is an extract from a study on the local search ranking factors done in 2009 by the Moz research team.
We shall now identify and discuss each of them for you to understand their importance.
Verified Google My Business Profile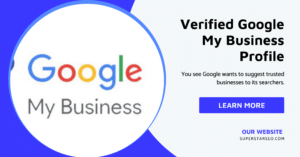 You see Google wants to suggest trusted businesses to its searchers.
A verified Google My Business profile tells Google that a business exists and its owners are ready to serve customers coming from search.
Google, therefore, prioritizes this factor over a local website. This does not mean that your local website is not important. In fact, as you will see in the SERP, organic results from local websites come next after the Map Pack. Thus, it helps to enhance your business ranking in the Map Pack.
Hence, it is important for you to properly optimize your GMB profile and aim for a 100% score in terms of fulfilling the requested requirements from Google.
Now, I'll take you through some best practices in optimizing your GMB profile.
In summary, they are:
Consistent NAP citations
Complete your profile details and aim for a 100% score
Properly categorize your business on GMB
Use location-based keywords in GMB profile description
Fill in your service and product with what you sell
Consistent NAP citations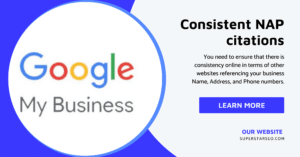 You need to ensure that there is consistency online in terms of other websites referencing your business Name, Address, and Phone numbers.
Consistent NAP citations across the internet boost your position on the Map Pack. On the other hand, inconsistent NAP citations make Google doubt the authenticity of the business offering, thereby reducing your chances of ranking high.
Also, you want to check for consistency in the use of abbreviations. For example, if you use Blvd. instead of Boulevard or St. instead of Street, you have to be consistent with your choice and make sure that other websites and listings referencing your business use your abbreviation exactly how it is used in your GMB profile.
Finally,  you have to be consistent with the arrangement of your NAPs across websites. The best arrangement is often the Name, Address and Phone number, just like this:
All Plumbing Company, LLC,
400 Altman St # C, Moncks Corner, SC 29461, United States
You may like – SEO Agency Start To Finish (Part-1)
Complete your profile details and aim for a 100% score
It is important for you to include every detail that will enable customers to understand your business offerings.
Everything from your appointment URL, profile name, contact info, website address, opening hours, accessibility conditions, and even your Covid-19 policy should be updated.
You should also make sure that the pictures you have on your profile are your business location and not some random photos.
The reason why you need to make sure everything is intact is that you don't want a customer to drop a negative review which can affect your ranking if they get to your business location and discover that you have entered incorrect business details in your GMB profile.
Generally, you should aim for a 100% score. GMB Profiles with a 100% score are more likely to rank high in the Map Pack.
Properly categorize your business on GMB
This is a significant aspect of the GMB profile optimization that most people find annoying because they often have to fix their businesses within the options recommended by Google.
During the registration, you'll be prompted to identify a suitable category for your business. You are required to position your business into both primary and secondary categories.
You have to be careful here as placing your business in the wrong category may limit your rank in the Map Pack or you may not be ranked in your preferred category.
Use location-based keywords in GMB profile description
This should not be taken for granted. If you sell Pizza in the Tucson area, you want to show that in your service description.  Aside from the fact that this helps your customers to easily find you, it helps your Local SEO optimization
You may like – How To Make Money With SEO
Fill in your service and product with what you sell
This sounds like a cliche but you need to take it seriously. Take your time to carefully fill in the service and product section of your Google My Business profile.
It helps your customers to navigate your offerings and give them insight into what they are to expect when they arrive at your store.
You should make sure to use appealing images and compelling descriptions.
Searcher's location or the proximity factor
Since local search is all about the local intent, Google will prioritize a business in a user's point of search in the search engine result's page.
For example, Google will prioritize local business results from Tucson above other locations if a user in Tucson is searching for a coffee shop nearby.
So, you want to make sure that your local business is optimized around the location where you have your business store.
If done right, you'll surely rank high in the Map Pack when a user who needs your service/product searches for your target keyword.
Strong Reviews Signal
Another crucial local SEO optimization factor is your reviews signal. Customer reviews boost your position in the Map Pack. The more positive reviews you get for your business, the higher you are likely to be ranked.
Your customers are busy with other aspects of their lives so they are prone to forget to drop a great review for your service without a reminder from you.
To request a customer's review on desktop, navigate to your homepage, locate the "get more review" card and copy the link for your customer to drop their review.
If you are on mobile, you can navigate to the customer's section. Then tap on "review". Press the share button to get a link for your customer to drop their review.
Once in a while, negative reviews occur either from dissatisfied customers or a random person, but you should not necessarily be distressed. Rather, you should use the opportunity to show your professionalism.
Finally, Never leave your reviews unattended. Respond politely to all your customer's reviews.
Quality of engagement on social media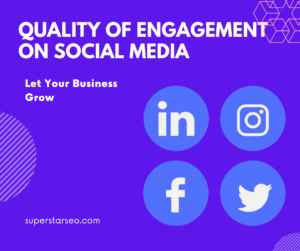 An active social media page will surely boost your rank on the Map Pack.
Have you noticed that social media pages also rank high on organic results?
Indeed,when people are talking about you on social media or sustaining an interesting thread, your business will surely have an edge in the Map Pack.
To create an interesting thread, you can contribute to trending issues in your locations and encourage your followers to ask questions that they would like to be answered professionally.
However, you should avoid buying likes and followership as they can hurt your profiles in the long run.
Diversity of inbound links to the domain
A Moz study revealed that quality and diversified inbound links pointed to the GMB listing of local business contributes to its high ranking in the Map Pack.
To get diversified inbound links, you should create  outreach to authoritative sites to link to your GMB profiles.
Traditional SEO rules also affect local SEO
The more your local website's performance improves in organic search, the Moz research team discovered that the more likely your position on the Map Pack will improve.
Thus, for your local SEO, you need traditional SEO tactics such as On-page, off-page, and Technical SEO optimization.
You have to create content for the keywords researched, optimize location pages, and build backlinks to your landing pages.
Related – On-Page SEO Factors
On-page SEO for Local Businesses: Tips and Tricks
On-page SEO for local businesses refers to the process of optimizing your location page so that your audience can find your products and services on the search engine.
It often requires proper utilization of your target keywords in title tags, header tags, meta tags, and even image tags. It also involves proper interlinking of content on your site, inserting of location map and location-based "about us".
Location-based content is king for local business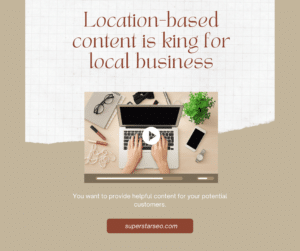 You want to provide helpful content for your potential customers.
The truth is nobody cares about your business. They care about your involvement in a community project, an event you have sponsored to provide them valuable information, or your position on a local debate.
Beyond writing content for your services, you should also write content around what interests your audience in your area.
That said, if you are writing location-based content you want to take note of the following:
Create different content for multiple locations
Although you may not be able to rank in the Map Pack in a certain area if you don't have a physical store, you can dominate the organic result of the SERP page with content optimized for that location.
For example, let's assume Matt has a plumbing business in Dallas, Texas servicing multiple areas. However, he doesn't have physical stores in those areas. It may be difficult for his business to rank in the Map Pack for those areas, but he can dominate the organic results in other locations such as Austin, Houston, or San Antonio.
This can only be made possible if Matt creates different content for multiple locations in which your business offers its services.
Matt has to create unique content for all the locations he's servicing and optimize them properly around the keyword+user's location to enable prominent visibility on search engines.
Write helpful blog posts for users
The keyword here is helpful.
You have to understand that your business is dealing with a smart audience. They prefer to give their money to that business they perceive they would get more value from their services.
Still using our hypothetical Matt's plumbing business, Matt can have a blog where he provides helpful D-I-Y insights to water leak detection, how to repair a clogged toilet, slab leak, or gas leak.
You may think that this may not convert the user or prompt them to contact your business but you see if a user finds a detailed guide to their problems, they will decide from the point of knowing that it's not worth it to waste their time on what a professional can get done with ease.
As much as you want to provide detailed D-I-Y content, every blog post should end with detailing the risks of unprofessional D-I-Y and a professional recommendation for the handling of the service.
Insert the keyword+location in headers
This is a rich feature you want to take advantage of. Keyword+location in headers helps the content to rank easily in local search.
In the SERP, when a user from Dallas searches for the keyphrase "Water filtration and Water treatment", Google will likely prefer to show results from pages with the keywords "Water filtration and Water treatment in Dallas, TX" rather than pages that don't mention the location.
Related – Best technical SEO Tools
Use captivating clickbait titles
Most readers would likely click-through clickbait titles rather than some boring keyword result on the SERP.
For instance, a reader would surely click on a post with the title, "5 things plumbers hide from you to fix a clogged toilet" rather than a post with the title "clogged toilet, Dallas TX".
Please note:
Do not misinform the users reading your content.
The entire idea of using clickbait titles here is to drive traffic to your page.
To retain the user on your page, you have to provide valuable content for the topic that has led the user to your page.
Use Schema to boost your local relevance
While Schema markups may have no direct impact on the Map Pack ranking, they can help your Local SEO organic ranking.
Google likes well-structured data and that's one point you should take advantage of for your business.
There's special schema markup for local businesses and you can take advantage of this to organize your address and contact details.
Another effective schema you want to take advantage of is the review schema. Reviews appearing next to your product or service suggest you are an authority and help build trust in the mind of your audience.
Site Speed Optimization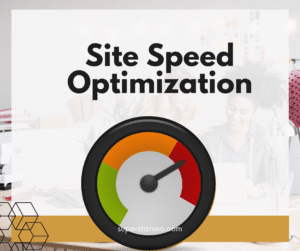 If a user is spending too much time for your page to properly load, then you might be getting a high bounce rate and this could ruin your chances at ranking.
So you want to make sure that all elements on your site are properly optimized to load fast. If you are on a content management system such as WordPress, you can install a plugin such as WP Rocket to help increase your site's speed.
Also, to improve your page speed, you can reduce large image size using an image compressor that'll still retain your image quality.
Image tag optimization
People take image optimization for granted but if you take advantage of it, it could make a significant difference in your local SEO campaign.
Google indeed frowns at keyword stuffing, however, it is an open secret that Google still uses the traditional method of keyword matching in its search engine page results to respond to a user's query.
While you may not stuff your keywords on your content page, one huge point you can take advantage of is the Alt Text tag for Image. You can include the keyword you want to rank for here.
You should avoid leaving your image title unnamed or using your default image name while uploading your image. Make sure you rename the images as it can help them rank in Google Image and it can be a source of traffic for your website.
To cap it all, you should use an image description for all the images on your website.
Include your Location Map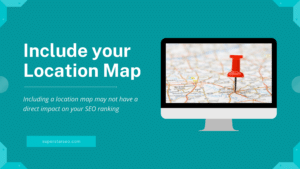 Including a location map may not have a direct impact on your SEO ranking, it helps to position you as a relevant option in the local area for the targeted keyword.
If you have a business with multiple locations, you can insert the location map for each city in the footer. This complements your other efforts in making your page a relevant local option for the targeted keyword.
NAP Citations for Local SEO
NAP citations on listings are one of the most important aspects of Local SEO. Your customers rely on listings to get the best company to handle their requirements.
To have a competitive edge, it has to be done right. You have to ensure that your local business citation is in its proper category, on the right websites, apps, and social media networks.
In this section, I'll walk you through how to identify a relevant NAP citation category, how to conduct a NAP audit, rectify incorrect NAPs citation, and how to use your competitor's citation to improve your NAP citation.
Identify a relevant NAP citation category for your local business
Indeed, there are many business listings where you can have your NAPS citation (Yelp, Bright local, Yellow pages, Facebook, etc.) but you need to identify a listing that's relevant to your niche.
For instance, it is more profitable for a pest control business to be listed in a local listing such as Superpages than a general listing such as Yelp.
While it is good to be listed in a general listing such as Yelp, the traffic from an industry-specific niche is more likely to drive relevant traffic to your location page
If you are unsure of where to list your business, you can use Moz to determine the best category to list your local business.
Most of these listings provide more than  NAP opportunities, they also allow you to provide a link to your location page. It's important that you have a relevant location page to enable your users to have an easy work-through of your services.
You may like – How Much Does SEO Training Cost?
How to conduct a NAP audit.
You may not need to bother about a NAP audit if you are a new business without previous address history on the internet, but if you have been around for a while, you want to be sure that there's no inconsistency in your NAP citation online.
To do this, you need a NAP audit tool such as Whitespark and Loganix. Alternatively, if you want to avoid the subscription hassles, you can hire a freelancer to get it done.
Either way, you will get a comprehensive result detailing the incorrect NAPs and the opportunity to list your NAPs in a directory or local website.
How to fix incorrect NAPS citation
Equipped with your list of online citations, you want to correct incorrect NAPS citations and also submit your NAPS to relevant listings that have been identified in your report.
If you have cases or instances of incorrect NAPS citation in popular listings such as Yelp, it would be easy to rectify these ones yourself if the issues are not too much.
However, if they are a ton, they can be a pain in the ass. So your best bet is to hire a freelancer on a platform like Legiit to clean up the inconsistent and incorrect citations.
Further, you may have your NAPS citation on local websites for which to rectify, you need to contact the site's administrator. Since most of these freelancers are familiar with these hassles, it may be more profitable to outsource it to them while you focus on improving other aspects of your local SEO.
The fastest way to build your NAP citation: improve your competitor's effort
Essentially, if you have a competitor that's doing well on the Map Pack, you can also improve your ranking by spotting where they have listed their businesses.
The same tools you use to scan your local citations can be used to spy on your competitors and know where they have listed their businesses.
With this, you won't have to be listing your business in irrelevant directories that won't help you rank.
That said, now let's go on to the most crucial aspect of building authority for your local business: backlinks.
Building Links for Local Business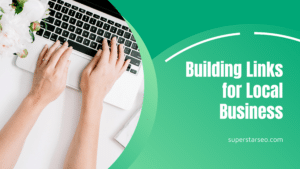 Some SEO professionals still ask the question:
Are links important for local businesses in 2021?
The straightforward answer is: links are important now and they'll continue to be important for a long time.
To become an authority, and increase page rank, your local business website must have backlinks from other authoritative websites.
Since it is a local business, there are many opportunities for your business to get links.
We shall explore some proven methods of getting links.
Register your business in a local listing where you can include your website
In addition to the NAPS citation, many local listings provide the option of including your business website. You can take this opportunity to include a link to a location page that is relevant to your business offering.
Subscribe to your local chamber of commerce
Depending on the period of subscription, whether monthly or yearly, your business details will be published on the site of your local chamber of commerce.
Note that this method is only possible if you are an active member of the community.
Related – Freelance SEO
Publish on a local website
You can also submit a guest post to a local website with massive and relevant traffic.
You don't need to scurry the internet before you can find local businesses to submit your guest posts.
Since it's a local business, you can ask your friend, neighbor, customer, distributor, marketer, producer, etc. to permit you to submit an informative post on their blogs.
Oftentimes, they will give you the chance to link back to your business.
You must make sure that your content is informative so that it provides value to your audience.
Sponsor an event
This is a strategic way of getting links for your website. When you sponsor an event, your business will most likely be mentioned on the organizer's websites and this is a significant source of valuable link for you
Get noticed by the press
You can organize a conference aimed at providing more information or participate in a local donation. Just make sure that in whatever event you choose, the Press should be informed so that you can get media publicity for your activities.
A press release is a powerful link juice for your website. When done right, it can provoke readers' interest in your business and attract massive traffic towards your services.
To enrich your press release, you can provide insightful background info about your business to the media company.
Final Thoughts
In this guide, we have systematically discussed Local SEO tips and tricks for local businesses.
The most important tip for optimizing your local business to rank high in the Map Pack is to complete your GMB profile, maintain consistent and diversified NAP citations and get quality reviews for your businesses from your customers.
Traditional SEO tactics still help in dominating the organic results for local businesses. Keywords optimization, Schema, Meta Data optimization, and quality backlinks are crucial factors that must be put into consideration for ranking local businesses in the organic results.
You may like – Starting SEO Company